Open Air Theatre at Ordsall Hall
Kristy Stott, Theatre Editor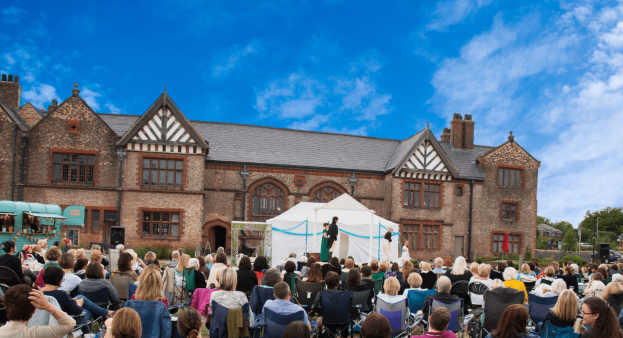 Outdoor theatre is one of our favourite things. Joyous, thrilling and wonderfully unpredictable, open air performance is a summertime treat for people of all ages.
Working with some of the UK's most popular touring theatre companies, Ordsall Hall will host a wonderful programme of open air theatre in the grand setting of their spectacular Grade I-listed Manor House this July and August.
The HandleBards and The Pantaloons are just two of the theatre companies set to perform in the stunning gardens of the spectacular Grade I-listed Ordsall Hall this summer.
Filled with energy, magic and charm, the HandleBards bring a glorious high-octane production of Shakespeare's A Midsummer Night's Dream to the grounds of Ordsall Hall on 26 July. Making wonderfully chaotic and environmentally sustainable shows, the travelling troupe (who celebrate their 10th anniversary this year) are an ensemble of cycling Shakespearean actors who carry all of their set, props and costumes on the back of their bikes. Sit back in the open air and watch humans and fairies collide in this dynamic, spirited and endearing production.
In contrast, on 27 July the vibrant and anarchic Pantaloons Theatre Company present a hilarious, yet faithful, new adaptation of Jane Austin's Emma. Fast-paced, witty and physical, this new version of the satirical story is packed with romance, music and the Pantaloons' interactive performance style.
Further highlights of family-friendly open air theatre at Ordsall Hall this summer include IKP Theatre's "delightfully daft" production of Hercules and Folksy Theatre's wonderful musical production of The Ugly Duckling.
Ordsall Hall is a magical setting to experience some of the best outdoor theatre and performance happening this summer. Bring your own chair or blanket, pack a picnic and soak up the atmosphere.