One Man and His Shoes at HOME
Tom Grieve, Cinema Editor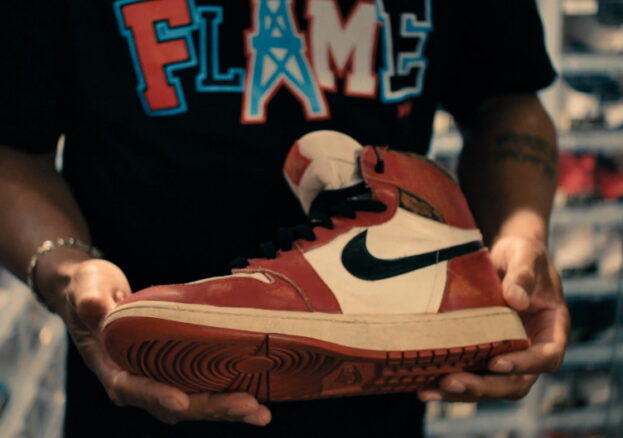 British filmmaker Yemi Bamiro looks stateside with his new Nike Air Jordan documentary One Man and His Shoes. Taking a long view, Bamiro maps out how a middling sportswear company joined forces with then rookie NBA player, Michael Jordan, in order to produce a basketball shoe that would take over the world. The filmmaker utilises former Nike employees, sneakerheads and cultural commentators — as well as slick animation and archive footage — to look at the marketing and business decisions that led to billions of dollars in sales.
There is a celebratory tone to the opening sections as we see Jordan's manager chuckle at how the athlete didn't initially want to meet with Nike, and how nobody thought to include a cap on Jordan's royalties. The film looks back at the glee with which Nike reacted to the NBA's decision to ban the original version of the trainers — what's cooler than something verboten? It also looks back at the decision to have up and coming filmmaker Spike Lee produce a series of TV adverts, and the sneaker culture those ads helped to foster.
Indeed, the doc arrives in the wake of Netflix's The Last Dance — an epic, laudatory, all-access documentary series which charts the extraordinary career Michael Jordan had in basketball. For a time, One Man and His Shoes feels like a shorter retread, but while The Last Dance was made in conjunction with Jordan and his team, Bamiro's film moves towards a more critical approach, and both the athlete and Nike refused to participate.
In its final third, One Man and His Shoes examines the darker side of the Air Jordan phenomenon. For over thirty years, people have been robbed and killed for their Jordan-branded trainers. Bamiro interviews family members who have lost loved ones, drawing direct lines to Nike's policy of marketing Air Jordans as status symbols to young black men living in deprived areas, and maintaining that demand through a deliberate scarcity of product.