We Come From Far Far Away at Contact
Andrew Anderson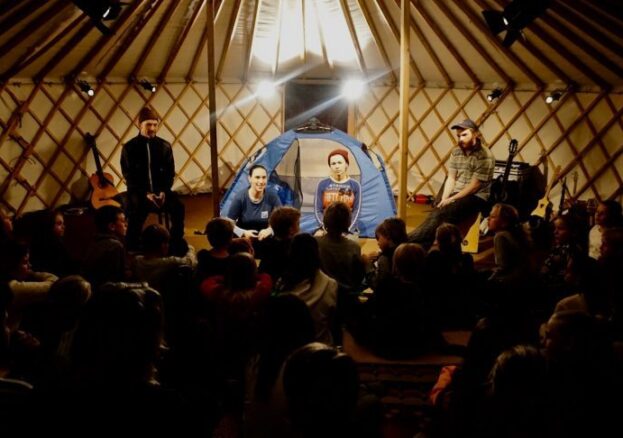 The story of refugees is the story of modern times: people forced to flee thousands of miles, for many disparate reasons, and start life all over again. We Come From Far Far Away, a new theatre show for young audiences, puts this story centre stage.
We Come From Far Far Away began in Norway, where the creative team of New International Encounter (NIE) began interviewing young refugees from Syria and Afghanistan. Their stories were harrowing, but ultimately full of hope – they each left their home because they believed that life could be better. This is the message at the heart of We Come From Far Far Away – that there is always hope.
The story is helped along by brilliant staging. Always inventive (past NIE shows have taken place in primary schools, on boats and even in a family car), this time the audience sits within a yurt, with the cast addressing them from a pop-up tent. Not only does this make the whole thing feel a bit magical, but it also makes it very personal…which, given how often refugees are de-humanised, is very important.
It's not only young people that need to know about these stories: we all do. After all, if we don't open our eyes and minds to the troubles of modern life, how can we ever begin to fix them? This is great piece of theatre with an important message: there is always hope.