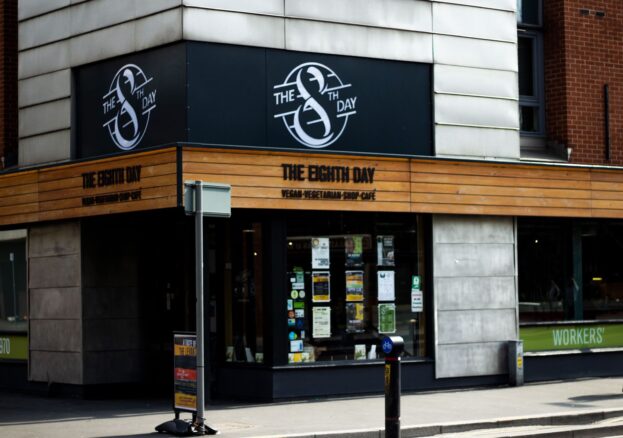 Oxford Road's Eighth Day is a veggie co-operative that began life in town as a craft exchange and later turned into a clothes shop. Over its 30-plus trading years, it slowly morphed into its current guise: a health food and vegan superstore that acts as a one-stop shop for all things ethical, vegan and vegetarian.
Boasting "the largest selection of ethical, eco, veggie, vegan, organic and Fairtrade products in the Northwest", upstairs, expect to find cruelty-free beauty products, herbal supplements, local coffee, craft beer, organic wines, everyday groceries and delightfully niche food products. There's also a great deli counter filled with locally-made, sweet and savoury delights. They also stock their own range of freshly-made plant based sandwiches and pasties, with the vegan Spanakopita being our go-to, alongside the outrageously moreish marinated olives.
Downstairs, you'll find a café serving up hearty, healthy plant-based food, all made from scratch with seasonal ingredients. This means the hot food menu is constantly changing, making repeat visits all the more rewarding. They also bake vegan cakes in house, and sell others from local bakers, while offering fresh smoothies and cold foods like sandwiches.