Mister Finch: The Wish Post at Yorkshire Sculpture Park
Sara Jaspan, Exhibitions Editor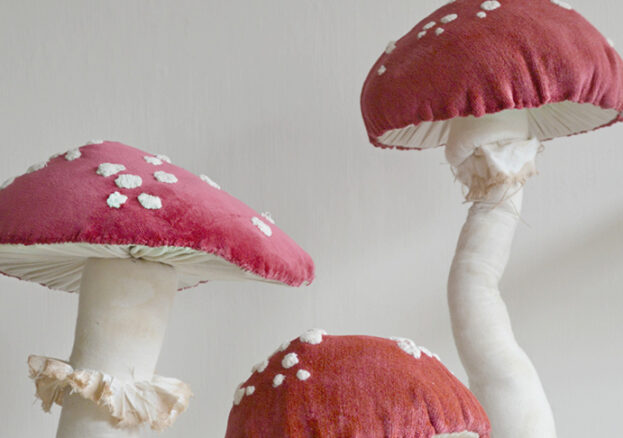 Don't be alarmed this summer if, wondering through Yorkshire Sculpture Park's Visitor Centre, you come across a life-sized, dapperly dressed mole, or skittish prickle of hedgehogs playing brass bells. You've not OD'ed on contemporary art. Instead, chances are they will form part of The Wish Post – the largest solo exhibition to date of work by Leeds-based textile artist Mister Finch, who has developed somewhat of a cult-following on Etsy for his menagerie of woodland creatures made from up-cycled materials.
The self-taught artist has drawn inspiration from British folklore, the historic Breton Estate (within which YSP is set), and Yorkshire wildlife to create a band of over 75 soft animal sculptures, along with the narrative for the show – a Gothic fairy tale titled The Wish Post. The story is set in a magical kingdom of woodland creatures whose job it is to collect and sort the wishes of others, breathed into envelopes and posted into toadstool post boxes. On one night each year, The Wishing Post creatures gather together for a festival, during which they have the chance to cast their own wishes into the wind in the hope that they will come true.
Not only a draw for kids, Mister Finch's handsomely clothed animals (which also include badgers, thimble-tailed rats, elegant swans and long-eared rabbits) have all been ingeniously crafted from discarded wire, steel, wood, vintage tapestries, cross stitch samplers, tablecloths, antique silverware and rescued cloth, exemplifying a remarkable level of creativity and skill.
As part of the exhibition, Mister Finch will be leading a highly anticipated one-day textile workshop on 15 September 2018, during which participants will have the opportunity to create their own small fabric creature. The Wish Post will also be accompanied by a brand-new publication, documenting the artist's journey in creating the work, and featuring behind-the-scenes photography and personal sketches.