Didsbury Arts Festival at various venues
Sarah-Clare Conlon, Literature Editor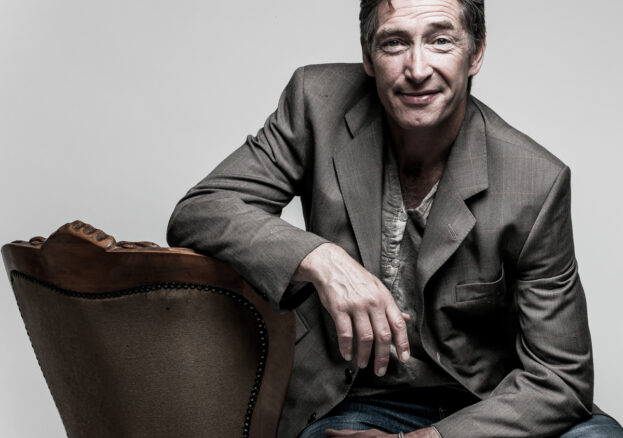 Didsbury Arts Festival has plenty to offer the connoisseur of fine words in this year's programme, which runs from 24 June to 2 July, when Mike Garry takes to the stage for the closing event.
The live literature offer gets underway with Caroline England and Elizabeth Baines both reading on the afternoon of Saturday 24 June. Caroline will be at Saison (3-4pm) talking about her road to the publication of five psychological thrillers as Caroline England and four gothic-tinged suspense novels as CE Rose, as well as all things writerly and answering audience questions. Known as the 'duchess of dark domestic noir', Caroline's books include the top ten Kindle bestseller My Husband's Lies and her latest, The Stranger Beside Me, will be out on 3 August. Elizabeth will be at the Old Parsonage (4-5pm), reading from her latest novel, Astral Travel, in which a daughter struggles to write about her troubled relationship with her complicated and sometimes violent father, only to uncover a secret that others will not want to be told. The reading will be followed by a Q&A and a chance to discuss the issues.
You can catch Elizabeth Baines again at the Tuesday evening readings at The Art Of Tea (complete with its very own bookshop) on 27 June; this last event, and many more, is free. Quite the literary suburb, Didsbury is home to plenty of poets and authors, as well as indie press Confingo Publishing. The Confingo showcase event welcomes nine writers: Elizabeth Baines, Zena Barrie, Sarah-Clare Conlon, David Gaffney, Jo Howard, Nicholas Royle, Adrian Slatcher, Imogen Tomlinson and Anne Worthington. Confingo's Joy Division-inspired short story anthology We Were Strangers includes pieces by David Gaffney and Nicholas Royle, whose most recent short story collections London Gothic and Manchester Uncanny (Paris follows shortly) came out with the press. Confingo also published David Gaffney's third novel Out Of The Dark, in 2022, and the other writers featured at this event have all had work in the literary journal Confingo Magazine.
On Saturday 1 July, Didsbury-based writer Sarah-Clare Conlon will premiere Flight Patterns, a sequence of poems created especially for the Festival,  inspired by legendary local resident Emily Williamson and her Wear No Feathers campaign. Join the poet in the atmospheric Old Parsonage as she reads the new work and shares the process of making it, exploring the life and legacy of Emily, who co-founded the Society for the Protection of Birds (now the RSPB) at The Croft in neighbouring Fletcher Moss Park, where a statue is set to be unveiled in her honour.
Manchester poet Mike Garry – who previously lived in Didsbury for 20 years – is performing "Handwritten Miracles" with long-time collaborators the Cassia String Quartet.
There's spoken word from Ali Davenport and Chris Jam and storytelling from Iris Skipworth and Helen Stewart, while Didsbury-based author Sue Kaberry will be reading from her novels at the library on 28 June, then chatting to journalist and broadcaster Clover Stroud about her acclaimed memoir The Red Of My Blood: A Death and Life Story on 29 June. Also on 29 June (and with 15 minutes to get between the two venues), Nell Stevens will be in conversation with journalist Deborah Grace about the French author George Sand, with pianist Claire Dunham playing works by Sand's partner Frederic Chopin for a live lit-music mash-up.
Workshops include "Writing your Working Class" with poet and Melbourne City of Literature Writer-in-Residence Louis Glazard on Sunday 25 June (4-6pm, Wine & Wallop) and flash fiction with short story writer and novelist David Gaffney on Sunday 2 July (1.30-3.30pm, Parsonage). Based in Didsbury, David will also be reading at the Confingo Publishing showcase earlier in the week.
On Sunday 2 July, 8-10pm, Manchester poet Mike Garry – who previously lived in Didsbury for 20 years – is performing "Handwritten Miracles" with long-time collaborators the Cassia String Quartet. Together, they've collaborated with Philip Glass and New Order, and their first single 'St Anthony: An Ode to Anthony H Wilson' – Mike Garry's poem dedicated to the late Factory Records boss, put to classical music by the composer Joe Duddell – went to number one in three official UK charts in August 2015, with the video (featuring Steve Coogan, Iggy Pop, Bernard Sumner and many more) viewed by over one million people in its first month of release. Mike's poetry – described as "both gritty and beautiful, married to a charismatic performance style" and "passionate swirling rhythms of thoughts and emotions converted to monologues of quick fire words" – is well known and he regularly supports punk poet John Cooper Clarke. His four books – Men's Morning, Mancunian Meander, God Is A Manc and Men's Mourning – have received wide critical acclaim and are regularly read on TV and radio, and in schools throughout the UK.
Be sure to check out the DAF programme online for full details of all the live literature events and writing workshops, and read more about Okechukwu Nzelu's reading on 29 June here.