May I Ass and The Competition at PAPER Gallery
Maja Lorkowska, Exhibitions Editor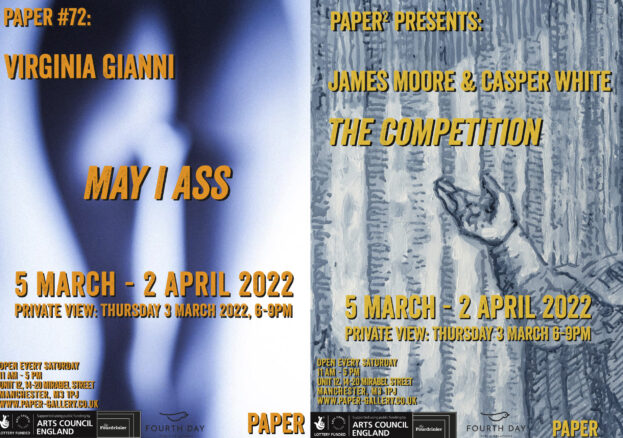 This month PAPER Gallery brings us a special treat: an exhibition double-bill with two different shows taking place at the same time: Virginia Gianni's May I Ass and The Competition by James Moore and Casper White.
Virginia Gianni's memorably named show May I Ass is an uncompromising exploration of the female experience in relation to inappropriate sexual behaviour. She cites the seemingly humorous title as a weapon against the belittling of personal trauma and situations when women encounter unwanted sexual advances. Inste ad, humour is used as a coping mechanism and a weapon against predictably 'funny' comments, to "reclaim the self and no longer be defined by the actions of others".
The Greek artist's photographs blend depictions of the human body and vibrant Greek islands with surrealism, creating unexpected combinations for the viewer to interpret as they wish. Despite the title, there is an underlying intensity and a fierceness to Gianni's images suggesting that while we may all take away something different from the display, the trauma on which the series was created can very much be felt, even if subconsciously.
The Competition from James Moore and Casper White is the second display at PAPER gallery this month. Both artist are painters, fascinated with contemporary painting practices including the use of new technologies as well as classical traditions.
The title and format of the exhibition was inspired by the tale of two artists in ancient Greece, Zeuxis and Parrhasius, who wanted to prove their artistic greatness through a painting competition. The work of Zeuxis fooled a bird that flew into the painting because of the ultra-realistic depiction of grapes. However, upon entering Parrhasius' studio, Zeuxis asked to lift a curtain from a shrouded panel to see the painting, which turned out to be the painting itself and proved his competitor's talent.
Moore and White's experimental installation will explore a similar idea – it is presented as a competition and displayed by candlelight to fully enmesh the viewer in the atmosphere in which the original competition would have taken place.
The two displays promise very distinct aesthetics and offer a space of encounter for the artists' differing approaches.