Mark Making at Bury Art Museum and Sculpture Centre
Sara Jaspan, Exhibitions Editor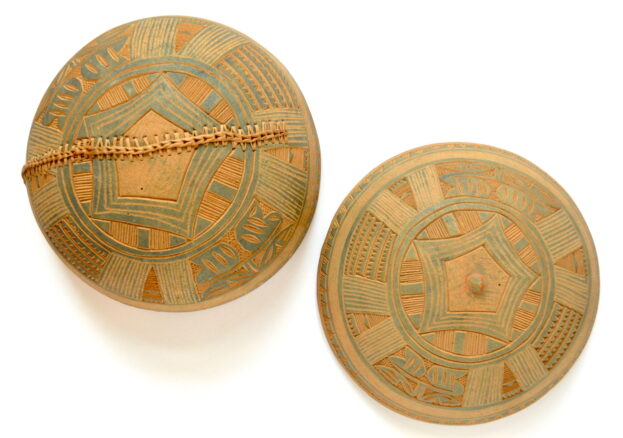 Perhaps since the first mysterious cave paintings made by prehistoric humans millennia ago, the simple act of mark making has formed the cornerstone of visual art. Yet, how often is it explored as a subject in its own right? From loose swathes of paint on canvas to delicately incised engravings, childish scribbles to handwritten messages, digital paint tools to painfully etched tattoos, the range of possible examples to draw from and study is vast. Which makes the imaginatively conceived, tightly curated selection of works presented within Mark Making at Bury Art Museum and Sculpture Centre all the more satisfying.
The exhibition features numerous artefacts from around the world held within the museum's Ethnography and Archaeological collections – the oldest in its care since first opening in 1907. Among these include richly designed barkcloths, basketwork and scrimshaw, Burmese scriptures and decorated coconuts. At the other end of the spectrum, Mark Making also contains several works by contemporary artists, such as by David Hockey, Robert Grenier, and Ma Qiusha whose impressive monochrome 'Fog Series' uses a delicate lace surface pattern to explore the conflict of emotions experienced by many of her generation growing up in China.
Amidst the noise and complexity of many exhibitions today, such focused attention on one of the most primary and universal building blocks of visual art is likely to offer a refreshing contrast. To encounter such a diverse range of works and objects gathered under one theme should open up fascinating new perspectives on humanity's innate drive to leave its mark.