Making a leather bag at Evancliffe Leathercraft
Vicky Smith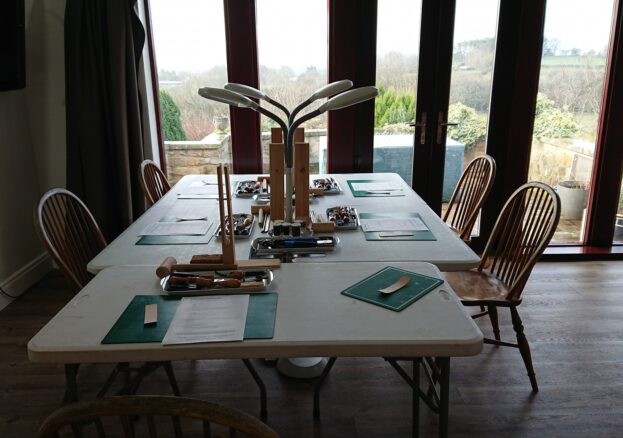 It's not often you see a leather shop that also teaches its craft, but Evancliffe Leather does just that via an array of workshops spanning pouches to journals and belts. Jewellery classes are also offered, thanks to Wendy Elsdon – who runs the business with her partner Clive – but leather is the mainstay, from goods to repairs and demonstrations at local events.
Evancliffe Leather has won a Craft Courses platinum award and is a member of the Heritage Crafts Association, so you can be assured of top-notch teaching on all bespoke training and scheduled workshops. For those who want to really get involved and make something of great practical value, however, its hand-stitched bag workshop can't be beaten.
The two-day event will guide you through the whole leather process; including marking and cutting out, forming straps, dying, preparing for stitching, saddle stitching, riveting, attaching accessories like sliders and buckles, burnishing and finishing. You can also choose from a selection of patterns, with the potential to add your own customisation to the bag. All leather and tool use is included (plus an ample supply of biscuits and brews) and Wendy's professional background in teaching has ensured that this, like all Evancliffe Leathercraft's workshops, has been developed with learning and achievable goals in mind.
Clive and Wendy studied leatherwork at Northumberland College and are dedicated to promoting both their craft and the North East, especially the County Durham of Weardale they call home and across which Evancliffe Leather enjoys stunning views. If you're after recommendations for local accommodation or attractions to accompany your workshop, they can help.
For a final incentive, check out the testimonials. Echoing the consensus of his fellow participants, Rob B said: 'Wonderful learning experience in a great workroom with glorious views led by really good tutors in a very friendly environment. What more could you want?'