Make A Scene/ Showgirls Way Too Interactive Screening at Manchester235 Casino
Tom Grieve, Cinema Editor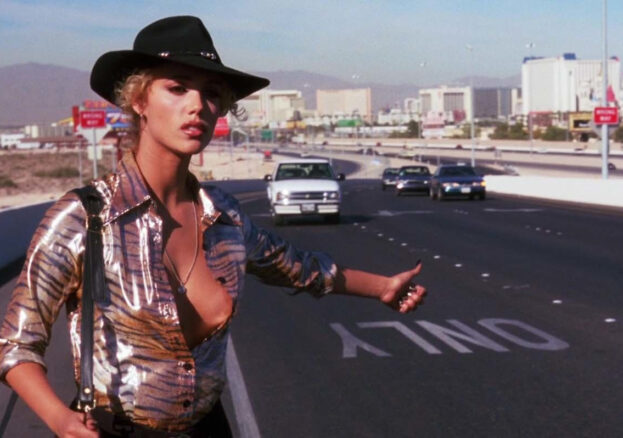 "You've gotta gamble if you're going to win."
The worst film ever made or greatest camp classic of all time? So ask big queer film club Make A Scene, of Paul Verhoeven's Showgirls, the subject of their latest way-too-interactive screening. It's certainly not the worst film ever made. Misunderstood? Certainly. But Paul Verhoeven, the provocative Dutch satirist behind such anti-fascist fare Robocop and Starship Troopers is too thoughtful and frankly, too good a craftsman to be responsible for the worst film ever made.
Showgirls opens in the desert outside of Las Vegas and closes there too. In between, Elizabeth Berkley's ruthless Nomi Malone rises to the top of Sin City's glitzy main stages before tumbling down again. It's a tale that borrows from Citizen Kane and All About Eve; a film that critic Adam Nayman, in his book-length riposte It Doesn't Suck, argues isn't a film so bad it's good. He makes a compelling case that the camp characteristics aren't accidental, that Verhoeven as an outsider knowingly wallows and even glories in America's dark and vulgar excesses.
Even more than in Verhoeven's other films, sex is central and commodifiable. Nomi works first in a strip club, then a chorus line, before taking centre stage. She back-stabs and seduces her way to stardom, quite literally toppling the competition — in the form of Gina Gershon's Cristal Conners — along the way. Jacques Rivette, the legendary French New Wave filmmaker and critic said, "Like every Verhoeven film, it's very unpleasant: it's about surviving in a world populated by assholes, and that's his philosophy."
as Make A Scene's celebration proves, there's a lot to love about Nomi Malone
Now, Berkley and Verhoeven won Razzies for their part. Verhoeven, the auteur, turned up to collect his and continued to work on large scale projects, whereas Berkley, the actress, at that point known primarily known for her long-standing role on Saved by the Bell, had her career ruined. There's a persuasive case that Berkley was thrown under the bus; her extremely committed, out-there, hyper-sexual performance drawn as a caricature by Verhoeven, her presented as character a misguided clown set on attaining her American Dream no matter the cost.
But as Make A Scene's celebration proves, there's a lot to love about Nomi Malone. She's talented, she's single-minded and she's a fiercely loyal friend to her roommate Molly. The screening, at Manchester235 Casino, promises to honour the films outre aesthetic as a strictly adults only affair. Guests can play blackjack, roulette or even the slots before being welcomed into a private room for the way-too-interactive main event hosted by Crystal Connors and Nomi Malone themselves as played by Manchester queer icons Grace Oni Smith and Joe Spencer.
We're promised cocktails, gambling, nakedness, audience interaction, really hard dance routines, exploding volcanoes, murder and lap dances. There are absolutely no under 18's allowed and be warned, the show will contain nudity, flashing lights and treacherous showgirls.