Lucian Freud: Real Lives at Tate Liverpool
Sara Jaspan, Exhibitions Editor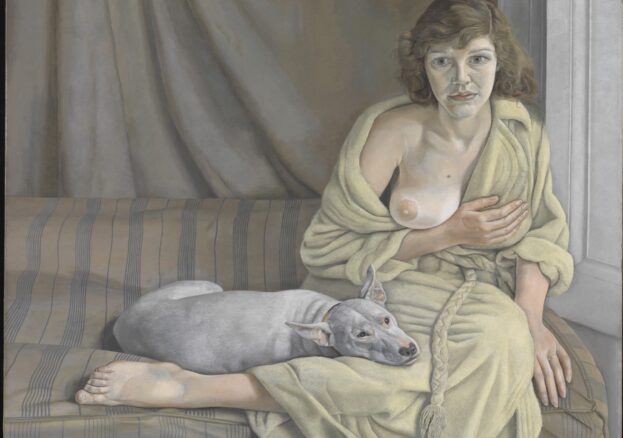 Lucian Freud's portraits never fail to make an impact. The raw, psychologically-charged, excoriating depictions they offer of his sitters and of himself – of the human condition, no less – have an extreme level of honesty that pierces the conventions of politeness; both daring us to look whilst preventing us from looking away (he was the grandson of Sigmund Freud, after all). Now, almost exactly one decade after his death, Tate Liverpool is presenting Real Lives – the first major display of the artist's work in the North West in over 30 years – celebrating his achievements as one of the great masters of modern portraiture.
The exhibition features some of Freud's most iconic paintings and etchings from across his 60-year-long career, as well as photographs (taken by Cecil Beaton, Bruce Bernard, and David Dawson, among others) that provide an intimate glimpse into his rather guarded personal life. He frequently painted his friends and family, and a curatorial decision has been made to organise his work into clusters of portraits of those who repeatedly sat for him over the years; Real Lives will highlight both his evolving relationships and stylistic developments.
The show will also provide examples of the painter's unconventional approach to etching and printmaking. Freud treated the etching plate like a canvas by standing the copper upright on an easel and working directly from life, demarcating his model's form through meticulous networks of finely etched lines that provide a rich counterbalance to the impasto style of many of his canvases. Portraits of the same sitter in paint and print offer a striking emphasis upon this.
Beyond stylistic innovation, however, Freud strove for his sitters to provide the driving force in his work and each portrait he made was the result of the intense conversations and space that was shared over the course of its making. Real Lives is a rare opportunity to step into the artist's world and spend some time with the people that populated it.