Liverpool Biennial 2023 at Tate Liverpool
Maja Lorkowska, Exhibitions Editor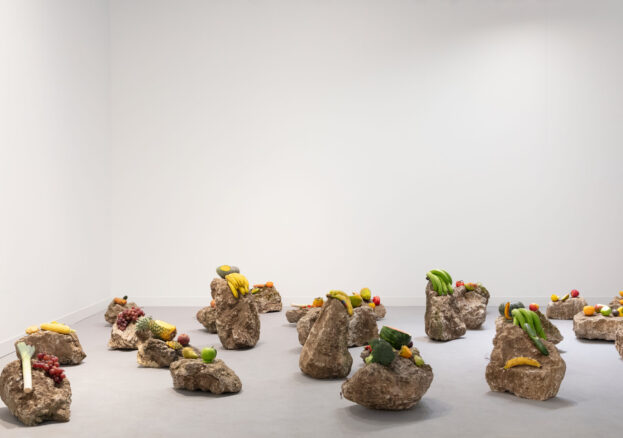 The largest festival of contemporary art in the UK couldn't happen without the involvement of Tate Liverpool! Gathering the work of 11 artists, the show is a varied offering of meditations and ideas in line with Liverpool Biennial 2023's main themes including healing, ancestral knowledge and the journey from catastrophe to joy. Many of the artists had a whole room to fill, making a trip through the gallery a fantastic walk-through from one immersive space to another. Let's take a look at some of the artworks you can expect to see.
Walking into the gallery, you will experience Edgar Calel's Ru k' ox k'ob'el jun ojer etemab'el (The Echo of an Ancient Form of Knowledge) 2021, which resembles the site of an ancient ritual, comprised of stones adorned with fruit, in an offering to the land and ancestors. The artist draws on knowledge from his Mayan Kaqchikel heritage, celebrating his community in Guatemala and using ancestral practices as an act of preservation and resistance in the context of contemporary art.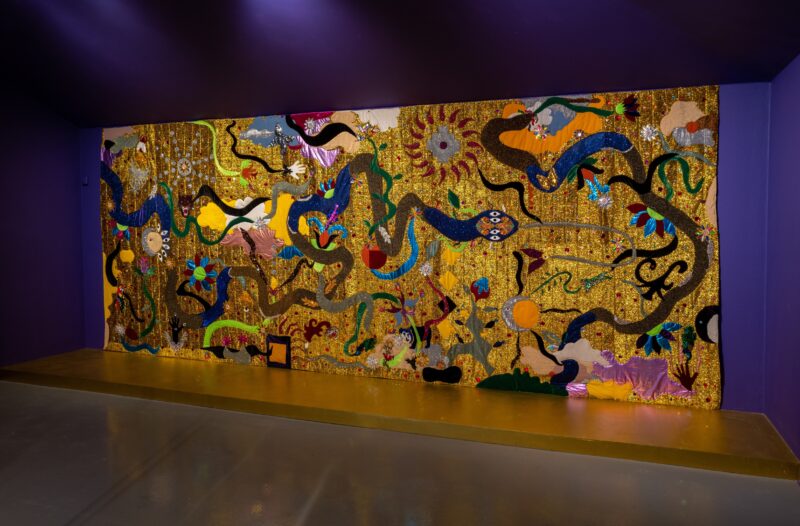 Nearby, Fátima Rodrigo Gonzales fills the room with textiles – glittery fabrics arranged into patterns of flowers, faces, hands and birds make up the freshly commissioned work Contradanza (2023). In the middle hangs a set of metal and bead sculptures with incredibly satisfying (and photogenic) bead arrangements coming together in the shape of eyes from the Holograms series (2020-2022). Despite the undeniable aesthetic appeal, both works address the ways in which the fashion industry exploits indigenous cultures for commercial purposes.
Gala Porras-Kim focuses on the process of caring for artefacts within a museum setting, investigating institutional frameworks and the ethics involved. For her bio-work Out of an instance of expiration comes a perennial showing (2022 – ongoing), the artist propagated mould spores from the British Museum's collection storage. These will continue to grow and spread for the duration of the exhibition, drawing attention to the traditional concerns about conservation. This particular piece benefits from repeat viewings so you can observe the mouldy growth.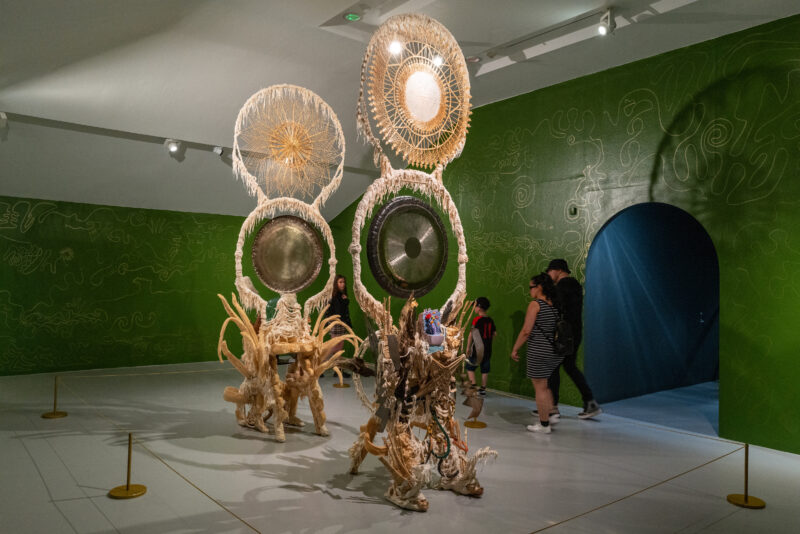 Downstairs, Torkwase Dyson has the whole of Wolfson Gallery to herself, which has been made into a dark, theatrical stage for her giant sculptures. Liquid a Place (2021) includes three objects in shades of dark greys and black, curved on the outside and cut out on the inside in the shape of a triangle, with surfaces going from rough and resembling the ripples of water, to smooth, shiny, almost covered in tar. The shapes and size of the pieces suggest ships, while the gap inside is reminiscent of a gateway, or the sailing route upon which 2.4 million enslaved Africans lost their lives.
The display also includes work by Isa do Rosário, Francis Offman, Guadalupe Maravilla, Lubaina Himid, Nolan Oswald Dennis, Pamela Phatsimo Sunstrum, and Shannon Alonzo.