Let The Song Hold Us at FACT Liverpool
Maja Lorkowska, Exhibitions Editor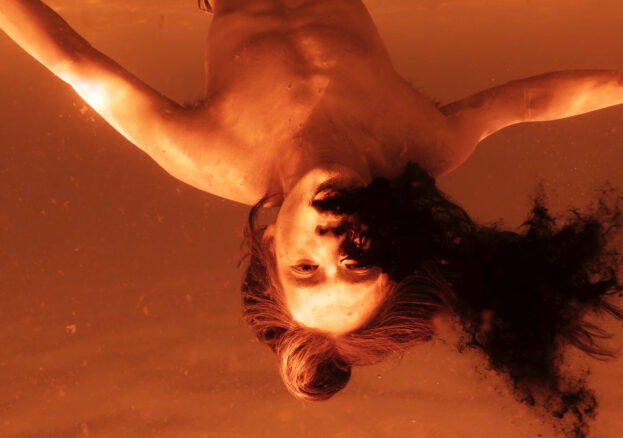 FACT Liverpool's new exhibition explores music as a key tool in bringing together family and shaping our sense of belonging, while understanding and remembering our histories and ancestry.
The display showcases the work of a number of artists: Korakrit Arunanondchai, Zinzi Minott, Tessa Norton, Larissa Sansour with Søren Lind, Ebun Sodipo, and Rae-Yen Song, all working in a multitude of, predominantly digital, mediums, including video installation, animation, augmented reality and more.
Music can be a little bit like smells – just a few chords of a favourite childhood melody have the ability to transport us back without warning. It gathers families too, flowing across generations and opening up doors to our heritage and personal mythologies. Let The Song Hold us utilises music's transformative quality to experiment with storytelling and narrative.
As If No Misfortune Had Occured in the Night, (2022) by Larissa Sansour with Søren Lind is a particular highlight of the show. Greeting visitors at the start of the display, the piece is a three-channel video installation with surround sound whose minimalist, monochrome visuals invite you to sit down and engage with the piece for a little longer. Featuring an Arabic-language opera performed by Palestinian soprano Nour Darwish, the aria fuses Palestinian and European musical pieces revealing the Palestinian experience and the wider international sorrow of conflict. The lyrics (the translation of which you can see on a screen above the video) focus on war, displacement, loss and inherited trauma. The film is a lamentation over humanity's failure to recognise the repetition of past mistakes with a never-ending cycle of violence, and the inevitability of passing the grief that results on to future generations. Sansour and Lind's work is incredibly moving and refined, resulting in an incredibly emotional experience for the viewer. You may want to see it briefly out of curiosity but you will stay for Darwish's heartbreakingly beautiful performance.
Other highlights include Rae-Yen Song's ≈≈aaaaaahmaaaaaa≈≈ (2022). The artist constructs a world out of the inherited memories of a distant grandmother, creating a personal mythology and a set of strange visual symbols. At the centre of the installation is a stained glass window – an unusually analogue artefact to see at FACT, and even more so due to its highly personal symbolism. The piece is completed by a set of ceramic sculptures, sounds and drawings as well as augmented reality which can be brought to life by scanning a QR code.
Let the Song Hold Us will be accompanied by a programme of events including a series of live performances. The exhibition is part of Radical Ancestry, FACT's current programme which looks at how our sense of belonging is shaped by the histories, geographies, biology and culture we inhabit and inherit.