MIF21: Laurent Garnier – Off the Record at Manchester Central
Fergal Kinney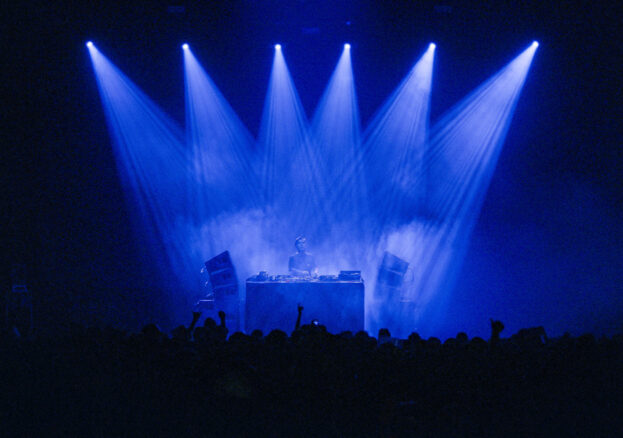 The story of dance music in Manchester can all too often become reduced to a rotating cast of familiar narratives – what's less understood is how the music of Manchester, an immigrant city, was shaped in crucial ways by people that were not born here. One of those people is celebrated DJ and musician Laurent Garnier. The techno pioneer left his native France for England in the 1980s, and in Manchester found himself in the right city at the right time. Now, having its UK premiere exclusively at Manchester International Festival 2021, a new documentary aims to tell the story of Laurent Garnier and the rise of techno in Europe.
When the director Gavin Rivoire first approached Garnier, the self-effacing Frenchman was hesitant – the global story about electronic music's struggle for respectability had to be at the forefront. "We're not where we are today without a fight" explained Garnier of that particular story, and the film marks an important contribution to debates happening within the dance world while the pandemic has placed it on pause.
Garnier's 2018/19 world tour becomes the focus, with Rivoire granted access to the man on and off the stage as he plays festivals and clubs from Barcelona to Bassiani, Georgia to Tokyo. As we watch where dance music is now, another story emerges about how it got there. Interviews include pioneers like Carl Cox, Pedro Winter, Seth Troxler, Jeff Mills and Derek May, intermingled with rare archival footage of Garnier's early years. 
Though galvanised by his experiences of Manchester, the Haçienda and crucial mentor Mike Pickering, the real draw of the film is the untold story of the political backlash against rave culture in France during the 1990s, and techno's battle across Europe for legitimacy. Cementing Manchester's French connection with Garnier, both Laurent and Rivoire will be in conversation in a post-screening Q&A with two fellow former Haçienda DJs, Dave Haslam and Jon Dasilva.