Knowledge is Power: 6 Towns at City Central Library in Hanley, Stoke-on-Trent
Sara Jaspan, Exhibitions Editor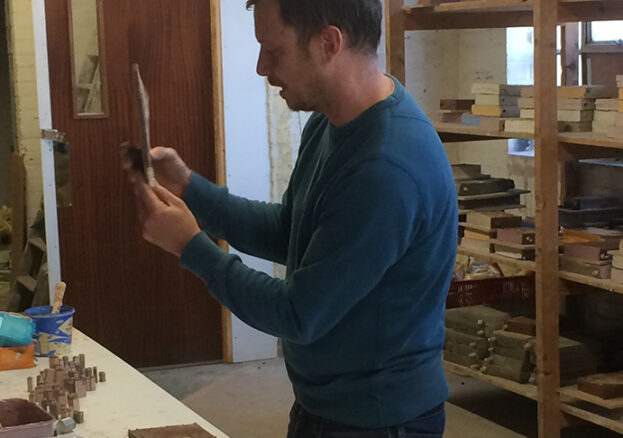 For BCB 2017, Keith Harrison has worked with over 200 local school children, community groups and industry representatives to create a complete set of replica clay books based on Stoke-on-Trent's special Six Towns Collection – a repository of information about the local history of The Potteries. Each embedded with a specifically manufactured electrical element, the replicas will be housed in six large kiln-like library shelving units, operated by an electrical switching network. The kilns will be fired each day in accordance with the library's lending figures (the more books borrowed, the more power transmitted), heating the replicas to unpredictable effect. A reading room featuring a pop-up library will also be in operation, offering an interactive space where visitors can influence the kiln firing sequence themselves through their own sampling of the Six Towns Collection.
The project celebrates the changing role of Stoke-on-Trent's libraries as cultural agents, repositories of local knowledge and sources of inspiration, invention and pleasure. As Harrison explains: "Knowledge is Power comes out of a simple belief that learning equals potential, a capacity for transformation. There is a literal manifestation of this in the heating of the clay books, changing state from raw to cooked to unpredictable effect. This work is dangerous but optimistic. Learning and ceramics are fundamental to this city, formed out of material invention, scientific experimentation and creative drive."
Knowledge is Power is commissioned by Stoke-on-Trent Libraries and Archives in association with BCB. The resulting work is planned to be installed as a public art piece in the refurbished Stoke-on-Trent City Central Library in 2018. Keith Harrison is a previous V&A artist-in-residence and creator of the much-anticipated Joyride – a Jerwood Open Forrest commission featuring a life-size clay replica of the Rover 75.