Potteries Museum & Art Gallery
Sara Jaspan, Exhibitions Editor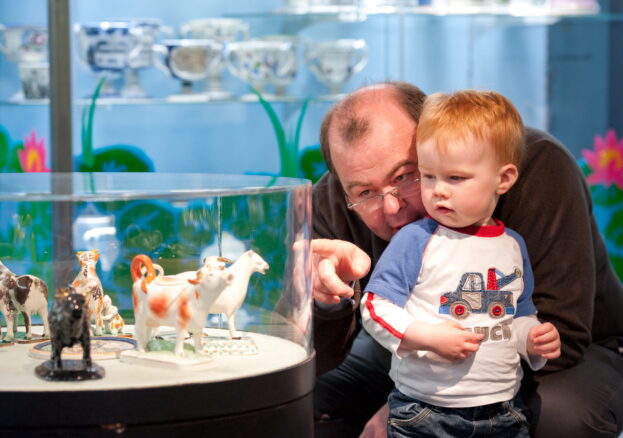 A visit to Stoke-upon-Trent is not complete without an afternoon whiled away in The Potteries Museum & Art Gallery in Hanley, the city centre. As well as rooms dedicated to local history, natural science, archaeology and fine art, it's also home to the most significant collection of Staffordshire ceramics in the world (including 667 cow creamer jugs and nearly 300 frog mugs) and, most famously, the £3million Staffordshire Hoard – the largest collection of Anglo-Saxon treasure ever found, featuring more than 3,500 pieces some over 1,300 years old.
This summer make sure you catch Made by the Girls of Staffordshire (27 July-22 Sept); a touching exhibition of First World War ceramics made by "the Girls of Staffordshire during the Winter of 1917 when the Boys were in the Trenches fighting for Liberty & Civilisation" (as the inscription on a Grimwades Bruce Barinsfather plate reads). From pottery and bone china to combat technology, CSI: The Scientific Legacy of WWI (11am-4pm, 15 Sept) presents a free day of talks, panel discussions and hands-on activities covering subjects such as trench archaeology, the chemical development of poison gas and life for soldiers on the frontline, as well as featuring a First World War replica tank and display of real and replica medical items from the Western Front between 1914 and 1918. (Visitors are invited to bring along any family photographs, letters or other items they may have in connection to a relative's military history to discuss with one of the experts on hand.)
There are plenty of First World War centenary activities to interest younger enthusiasts at Potteries Museum & Art Gallery too. Embark on a 12-stop poppy trail through the museum (2 Aug-16 Sept) to decode the secret word and uncover a series of postcards sent from Bert, a soldier, to his sweetheart, Lily during the war. Or take part in Pots of Colour, a craft workshop involving flower pot decorating and the chance to make and add a flower to an expansive 'poppy field wall' installation (£1.50 drop in 10.30am-12.30pm and 1.15-3pm, 6 Aug).
Other events to look forward to over the coming month include a talk entitled 1918: The Unexpected Victory by leading First World War military historian Andrew Robertshaw examining the battles of 1918 on the Western Front followed by a Pie and Pea supper (7pm 10 Aug, £10); and The Great War Home Front where Meredith Towne will discuss the role of women during WWI, including their fight for the vote and wartime fashion, over a Cream Tea (1pm 19 Aug, £10).
Find out what else is on in Stoke-on-Trent this summer here.