Stoke Minster
Sara Jaspan, Exhibitions Editor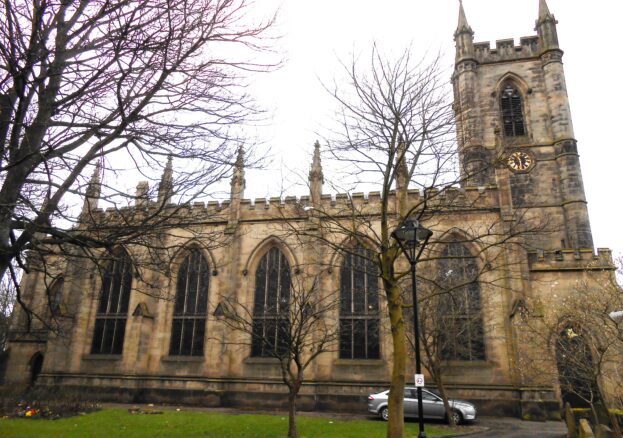 Just a short walk from Stoke-on-Trent train station is Stoke Minster, believed to have once been an important Celtic religious site and where Christian worship has taken place since Saxon times. The first Christian missionaries decreed the spot to be a 'Holy place on the flowing river' ('Stoche on Trent') in the seventh-century and it remains an important calling point for pilgrims following in the footsteps of St Chad and St Werburgh along the 92-mile Two Saints Way.
The first church built on the site dates back to 670 and was made out of timber, only to be replaced by a stone building in 805. The remarkable remains of this second construction can still be found in the church graveyard today, one side bearing what is believed to be the earliest example of the Stafford knot. The origin of the pretzel-like design (now the traditional symbol of Stafford) has generated much debate over the years, some claiming it to have been a heraldic symbol of early Mercia or a Celtic Christian emblem brought to Staffordshire by missionary monks from Lindisfarne. Another, somewhat less romantic legend has it that the knot was devised by a hangman as a three-way noose to settle a quarrel between three condemned prisoners in a Staffordshire gaol over who should be hanged first.
Reflecting the history of The Potteries, the present building of Stoke Minster (dating back to 1826) features a number of ceramic memorials to the potters of the district, and is the final resting place of Josiah Spode and his family and Josiah Wedgwood. The church is unusually dedicated to the biblical story of The Chains of St Peter and replica chains can be found on the High Altar as a reminder of the church's continued commitment to liberation, whilst neatly echoing the significant abolitionary efforts of Wedgwood during his lifetime.
Stoke Minster is one of 14 stops along the Stoke-on-Trent Remembers World War One Trail – a journey stretching across Stoke-on-Trent's six towns to honour the fallen soldiers of the Great War 100-years ago. For full details, visit www.stoke.gov.uk/stokeremembers.
Discover more places to visit and things to do in Stoke-on-Trent this summer here.
Note: Stoke Minster is open for visitors Mon 12.30-1.30pm and Weds 9.30am-12.00pm; and for regular service on Sunday mornings and at other times.