Emma Bridgwater Factory
Sara Jaspan, Exhibitions Editor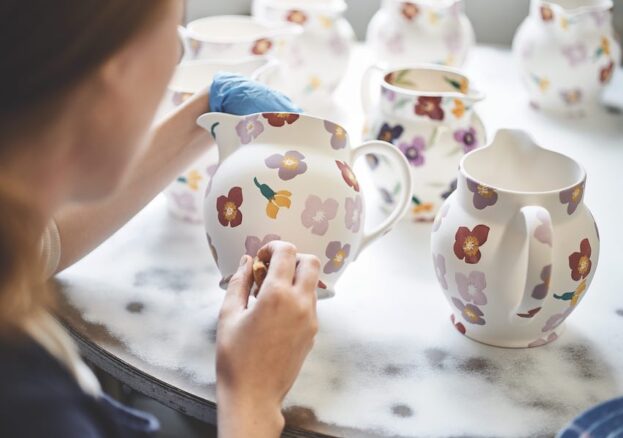 Stoke-on-Trent's reputation as a centre for world-class pottery has been much revived in recent years by the great success of contemporary designers like Emma Bridgewater who, it is said, founded her company in 1985 after she tried and failed to find a suitable birthday present for her mum. After drawing an ardent fan-base and feverish-following for its iconic colourful polka dots and the satisfying solidity of its simple yet distinctively-stylised mugs, today Emma Bridgewater is one of the largest pottery manufacturers based entirely in the UK.
Over 1.3 million pieces of pottery – each one touched by over 30 deftly-skilled hands – are now made at the Hanley-based factory per year. Bridgewater bought the former Victorian Eastwood Works from the Wedgwood company in 1996 and it has since become something of a mecca for pottery lovers, not least because of the factory shop with its heavily discounted lines and numerous special offers.
Aside from shopping, what really makes this place such a popular attraction is the factory tour (10am, 11.30am, 1.30pm Mon-Fri, £2.50 – advance booking required) where visitors have the chance to meet the jiggers, jolliers, fettlers, casters and decorators under whose attentive craftmanship mere lumps of clay are transformed into the brightly-patterned cream-coloured earthenware coveted by so many. Combine the tour with a visit to the Decorating Studio where you can create your very own Emma Bridgewater masterpiece to take home (slots available every day 9.30am-2.45pm, price depends on the piece you choose plus £2.95 studio fee).
The café here is a must. Feast on dishes inspired by Bridgwater's own recipes or enjoy a classic Afternoon Tea (presented on an Emma Bridgewater tea set, of course) either indoors or outside in the factory's colourful courtyard. Follow with a visit to the secret walled garden.
Discover more places to visit and things to do in Stoke-on-Trent this summer here.