Kendal Mountain Festival 2023
Kristy Stott, Theatre Editor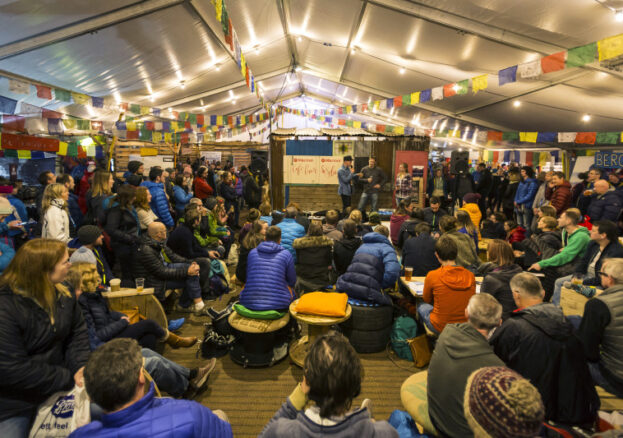 A gathering of professional and amateur mountaineers, ramblers, and outdoors types from all around the world, the four-day Kendal Mountain Festival is always packed with exciting activities for everyone from children to pensioners. For over 20 years, the festival — which takes place at Brewery Arts Centre and in venues across Kendal — has grown in size and diversity and has won numerous awards including Visit England's Tourism Event of the Year. Every November thousands of adventure seekers gather to share outdoor experiences and celebrate the very best in outdoor and adventure sport culture.
The content is divided into three main areas: film screenings, literature, and talks. Typically, over 200 short to long films are screened at each event, mostly documentaries about amazing locations around the world and the people who explore them, plus heroes of sport, naturism and ecology. Each year the festival gains exclusive access to the world's greatest outdoor feature films, premiering or screening such classics as The Bat and the Wicked, Five Days One Summer, Hard Grit, Touching The Void, Free Solo and 14 Peaks: Nothing is Impossible.
Interwoven into Kendal Mountain Festival is a book festival, which celebrates and explores our relationships with nature, landscape, people and place sharing ideas, stories, and voices from around the world. From nature writing workshops to a pop-up shop that gives literary ramblers a great place to pick up new classics, there's lots going on each year, including many literary talks.
Reaching beyond literature, more outdoorsy talks happen throughout the wider festival, the speakers hailing from the worlds of mountaineering, climbing, ski and snowboarding and the like.
There are features for all age groups, making the Mountain Festival a great event for those who are passionate about the outdoors but also need to keep the kids entertained. Growing in popularity year after year, Kendal Mountain Festival should be top of the list for lovers of the great outdoors and avid explorers everywhere.