Journeys of the Imagination: adventuring in the Americas at Quarry Bank
Gemma Gibb, Associate Editor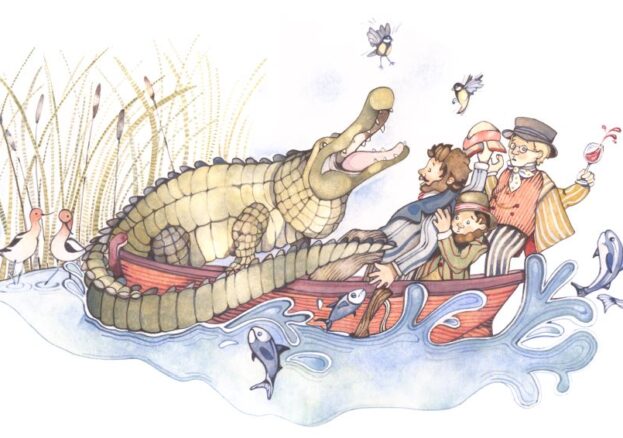 The new Journeys of the Imagination adventure provides many reasons for families to adventure around different parts of Quarry Bank this summer. This new interactive trail, in association with award-winning children's novelist Berlie Doherty, has been inspired by incredible personal stories from this historic place – one of the UK's most significant (and much-loved) industrial heritage sites.
On weekdays from 6  to the 17 August discover more about the life of the eccentric Edward Hyde Greg and his adventures in the Americas. Before he took over management of Quarry Bank in 1870 he travelled widely and experienced a narrow escape from an alligator in the Gulf of Mexico. Sit in a canoe in the lower gardens and play "spot the alligator". Turn the charming large-scale zoetrope to see Edward's encounter being brought to life.
Meet the character Edward himself to be regaled with stories about his travels and be challenged to the mosquito mania game. Learn how to make an origami alligator head to take home.
Each day this summer holiday families can also catch the Journeys of the Imagination It's Your Choice Show in the garden where you get to decide which direction the adventure will take. Follow the tale of escapee mill apprentice William Tittensor to become a runaway and go on a scavenger hunt in the Apprentice House garden to find everything you need to escape the clutches of the mill manager.
Pick up a passport and find the five other fascinating personal stories across the site. The Journeys of the Imagination trail promises adventuring of the highest order together, and many reasons to return to explore this gloriously restored and reinterpreted destination over the months ahead.
Quarry Bank is one of the most picturesque places in the region to visit at all times of year, from the excitement of the gushing river Bollin, the wild woodland, expansive meadows and beautifully restored dramatic cliffside gardens complete with caves, glasshouse, winding paths, beautiful planting and picture-perfect views to explore. It's good news for families all round that some of the incredible stories can be explored outside in this way.
Quarry Bank admission charges apply.