Journeyman at HOME
Nirmala Patel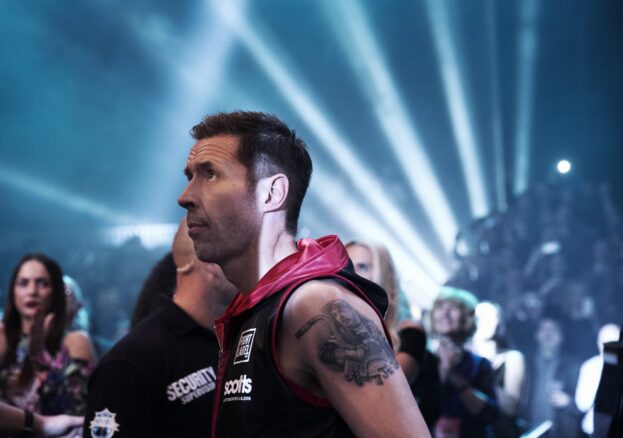 Paddy Considine's second feature film as writer/director, Journeyman, comes seven years after he won plaudits for the acclaimed Tyrannosaur (2011). Here, Considine takes his lifelong interest in the sweet science and sets out to make his mark on the boxing movie genre, focusing on the side of the sport that occurs outside of the triumph and bravado of the ring. The film follows Matty (played by Considine), a fighter whose life until recently has been entirely driven by boxing, but now his dedication falls foremost towards his family, who he must fight to reclaim after brain injury transforms him.
The film sets up Matty as a doting husband and father; to wife, Emma (Jodie Whittaker), and their baby daughter, Mia. His career is at a crucial stage: his next fight is to retain his World Championship title with a view to retiring after doing so. We see Matty's family focus in contrast to young opponent Andre's arrogant pre-fight jibes — it is evident that Matty is a dedicated boxer, but his outlook extends beyond the personas and pantomime of the sport. A telling line comes when his opponent emphasises that this fight will be a "life changer" for Matty. Despite Matty's win, the blows taken to the head have an impact which is far-reaching and indeed, life-changing.
The fight leaves Matty in hospital with brain damage. Returning home, he finds his reputation as world champion "The Matty Burton" at odds his physically compromised and confused post-injury state. His grand house is predominantly constructed of large glass panels which, alongside the framed photographs of prior triumphs, force literal and metaphorical reflection as he struggles to contend with his changed identity. As the stricken fighter struggles to put the pieces of his life back together, there are some strong, searing moments of frustration and anguish that will make you flinch at their brutality.
Largely these come at the expense of Emma, who must leave with Mia for their safety and wellbeing. A single-take phone call between Considine and Whittaker is one poignant and raw moment which places you in the conflicted emotions of their situation. Both actors deliver remarkably tender performances and create a relationship that is honest when painfully tested. Journeyman emerges as a sincere and tactful effort to capture vulnerability in characters who we empathise with very closely throughout. A love story of friends and family; of relationships at their most exposed, this is a film that will move you and affirm what truly matters.