Jhumpa Lahiri and Kamila Shamsie online at Manchester Literature Festival
Sarah-Clare Conlon, Literature Editor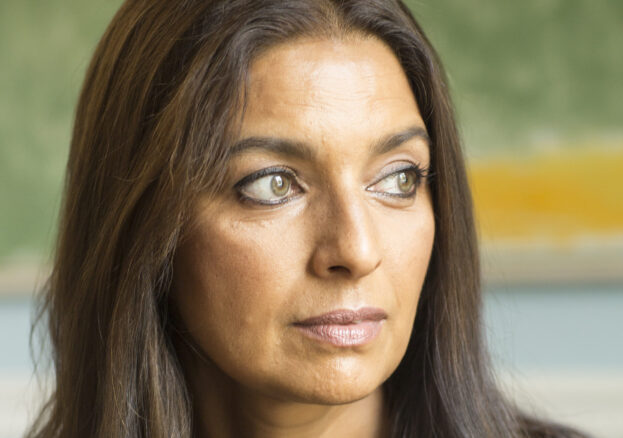 Manchester Literature Festival's latest spring guest is the winner of the Pulitzer Prize, Jhumpa Lahiri. Jhumpa will be in conversation with novelist and MLF Patron Kamila Shamsie, who won the 2018 Women's Prize For Fiction; the latest shortlist (with Cherie Jones in the running) has just been revealed by last year's winner, chair of judges and novelist Bernardine Evaristo. This year's winner is due to be announced at the start of July.
Jhumpa Lahiri's own writing career is littered with silverware. Her debut collection of stories, Interpreter Of Maladies, was published in 1999 and awarded the Pulitzer Prize For Fiction, the PEN/Hemingway Award and The New Yorker Debut Of The Year. Her second story collection, Unaccustomed Earth, came out in 2008 and won the Frank O'Connor International Short Story Award.
Jhumpa Lahiri is also delivering the prestigious Sebald Lecture in association with the National Centre for Writing and British Library.
In between, her debut novel The Namesake (2003) picked up praise as New York Times Notable Book and Los Angeles Times Book Prize finalist, and was selected as one of the best books of the year by USA Today and Entertainment Weekly, among other publications, and it was adapted into a film. This was followed ten years later by her second novel, The Lowland, which was shortlisted for both the Booker Prize and the Women's Prize For Fiction.
Whereabouts is her third novel, out at the start of May with Bloomsbury. The Observer calls her a 'writer of formidable powers' and, indeed, as a kind of experiment with language, Lahiri originally wrote the book in Italian (she's been obsessed with Italy since first visiting Florence in 1994, eventually moving her family to Rome for a spell), later translating it into English herself. She'll be discussing this 'stunning' novel, in which an unnamed woman, in an unnamed Italian city, assesses her daily life: her friends, her work, her lovers – and the shadow of her father's unexpected death.
Back in the States, where she was raised in Rhode Island (she was born in London), Jhumpa Lahiri is professor in creative writing and director of the Princeton University Program in Creative Writing in the Lewis Center for the Arts. She is the recipient of a Guggenheim Fellowship, as well as the editor and one of the translators of The Penguin Book Of Italian Short Stories, which brings together forty writers that reflect over a hundred years of Italy's vibrant and diverse short story tradition.
She has also written the work of nonfiction, In Other Words – in Italian, In altre parole won her the Premio Internazionale Viareggio-Versilia. With her translator hat on, Jhumpa Lahiri is also delivering the prestigious Sebald Lecture in association with the National Centre for Writing at UEA in fellow UNESCO City of Literature Norwich and British Library on 2 June at 4pm (it will be broadcast free online).
Kamila Shamsie is a senior lecturer in Creative Writing at the University of Manchester and the acclaimed author of seven novels, including Home Fire, which won the Women's Prize For Fiction and was longlisted for the 2017 Man Booker Prize. In 2013, she was named one of Granta's Best Young British Novelists, and her novel Burnt Shadows (2009) was shortlisted for the Orange Prize and 2014's A God In Every Stone was shortlisted for the Baileys Prize, the Walter Scott Prize for Historical Fiction and the DSC Prize for South Asian Literature. Originally from Karachi, three of Kamila's six novels have received awards from Pakistan's Academy of Letters and she is also a Fellow of the Royal Society of Literature.
This pre-recorded online MLF event will be captioned, and broadcast at 7.30pm on Tuesday 20 May. It will then be available to watch for another seven days (until 27 May).