Lynx Theatre: Sylvia at the Working Class Movement Library
Sara Jaspan, Exhibitions Editor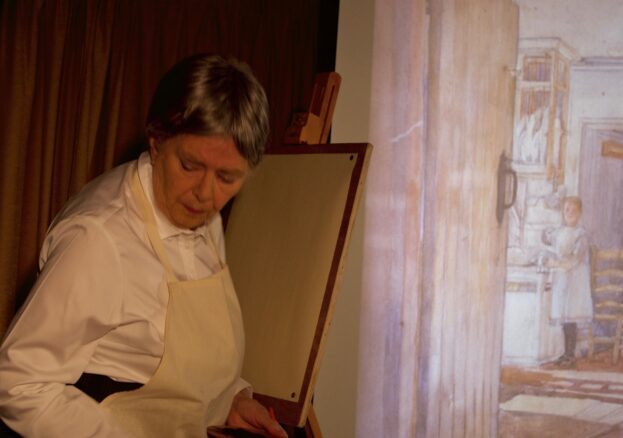 This event has now sold out.
Sylvia Pankhurst has been called 'the greatest Englishwoman of the twentieth century'. And with good reason. Born in Manchester in 1882 to two great social reformers, she spent her life campaigning not only for women's suffrage (founding the Women's Social and Political Union (WSPU) in 1903), but also universal suffrage. She was a prominent communist and, later, a passionate anti-fascism activist; compared by the Irish playwright and critic George Bernard Shaw to Joan of Arc in her tireless struggle for world peace. But she began life as an artist.
Presented at the Working Class Movement Library as part of Wonder Women 2018, Sylvia by Jacqueline Mulhallen (co-founder of Lynx Theatre) is a one-woman-play which tells the story of Pankhurst's childhood and early life, through over 250 slides. Each one showing early black-and-white photographs of her paintings and travels.
As a young woman, Pankhurst trained at the Manchester Municipal School of Art and the Royal College of Art, before departing on a tour across the industrial communities of northern England and Scotland in 1907. During this time, she spent countless hours painting and writing about the awful working and living conditions of female workers, building a powerful argument for improvement of working conditions and pay equality with men. Though she largely gave up her painting and illustration work to concentrate on her political activism, Pankhurst was one of the many women who helped design the badges, banners and flyers for the WSPU; her symbolic 'angel of freedom' becoming synonymous with the campaign.
Sylvia promises to provide a fascinating, visually rich account of this much lesser-known side of Pankhurst's life, as well featuring rarely seen archival images of leading figures, events and places from the suffragette movement. Don't miss this unique opportunity to learn more about one of Manchester's most important, fascinating heroes.
This event will be followed by a post-show discussion.