In Focus: Anna Thorvaldsdottir at RNCM
Johnny James, Managing Editor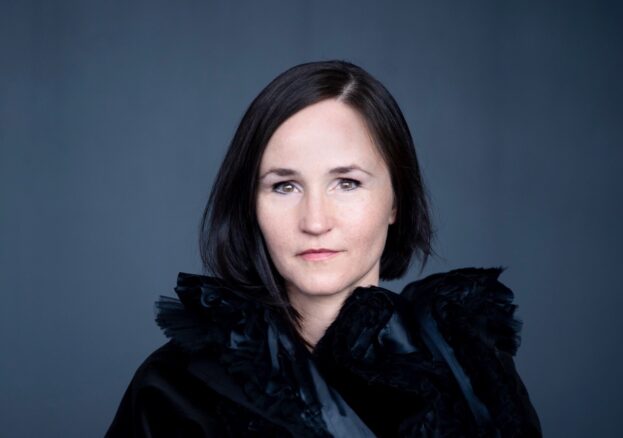 This May, the RNCM welcomes Icelandic composer Anna Thorvaldsdottir to Manchester for a three-day celebration of her ethereally beautiful music.
Anna Thorvaldsdottir's music calls to mind the mighty natural forces of her native Iceland, translating the ecosystems of nature into orchestral soundscapes whose materials continuously grow in and out of each other. Described by the New York Times as possessing a "seemingly boundless textural imagination", Thorvaldsdottir is widely regarded as one of the most arresting musical voices to emerge from Iceland since the likes of Sigur Rós or Björk (who, naturally, is a fan). Her trailblazing style has led to commissions from the Berlin and New York Philharmonics, City of Birmingham and Gothenburg Symphony Orchestras, the International Contemporary Ensemble, and Carnegie Hall. Most recently, her string quartet Enigma, recorded and released in August 2021, was a New York Times recording of the year.
Three separate events will showcase the breadth of Thorvaldsdottir's output, from orchestral pieces to chamber works to music for ensemble. First up on Wednesday 4 May is the RNCM Brand New Orchestra, who will perform the composer's spellbinding Dreaming alongside new works by RNCM composers. "Dreaming", wrote Andrew Mello of Gramophone in 2019, "is an imposing monolith that emerges from silence and recedes back into it, speaking of natural desolation, severe beauty and precarious tectonics in between." The piece is a shining example of Thorvaldsdottir's nature-inspired compositional style, the music behaving like a shifting landscape that unfolds mysteriously, meditatively, in a way that pays no mind to chronological time – like a dream.
Next up on Thursday 5 May, we'll hear from Thorvaldsdottir herself as she features in conversation with Radio 3's Elizabeth Alker, discussing her life and work. The evening also includes a full programme of her chamber music performed by RNCM students, along with pieces by two of the College's most promising composers: Helena Walsh and Eve Vickers. Highlights from the Thorvaldsdottir works include Transitions for cello, which explores the theme of 'man and machine' and Rain, a haunting, typically evocative work for soprano, flute, guitar and pre-recorded electronics.
Finally on Friday 6 May, the RNCM New Ensemble will take to the stage to perform a programme including Thorvaldsdottir's Spectra. The piece is in six short movements, performed in a seamless flow from one movement to the next. Its shivering, aching string lines cascade through undulating waves of tremolos, crescendos, glissandi, and percussive effects, laced with Icelandic melancholy and a hint of distant folksong. Entropic Arrows follows suit, with the composer directing its performers to measure time by imagining long sustained pitches as "a fragile flower that you need to carry in your hands and walk the distance on a thin rope without dropping it or falling". Aequilibria, meanwhile, was described by The Wall Street Journal as the "musical equivalent of magical realism", beginning with a sense of melancholy desolation before morphing into something more otherworldly.
All in all it's a fantastic showcase of Anna Thorvaldsdottir's music, and of the talent being nurtured at RNCM. For anyone with an eye towards the future of contemporary music, it's unmissable.