Lemn Sissay for Huddersfield Literature Festival
Sarah-Clare Conlon, Literature Editor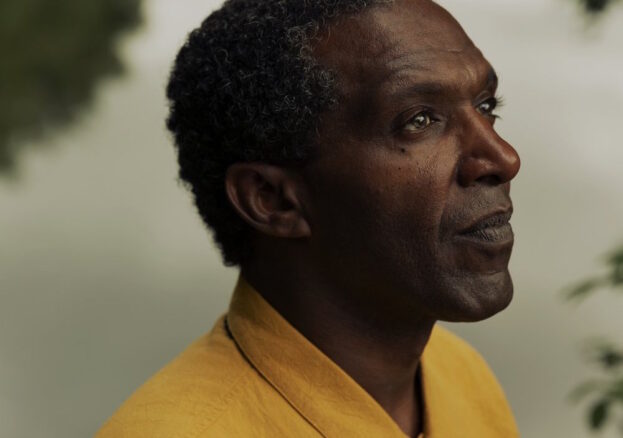 It's not yet spring, but Huddersfield Literature Festival is here with a special one-off "not-to-be-missed" event, welcoming Festival Patron Lemn Sissay to celebrate the publication of his new poetry collection Let the Light Pour In in what promises to be "an electrifying poetry performance and Q&A".
For the past decade, Lemn Sissay has started each day by writing a short poem at dawn. He says it's "a way to exercise his mind, to connect, to explore, to be curious, to start each day with an act of hope". Poignant, often humorous and full of wonder, these poems chronicle his own battle with the dark and are fuelled by resilience and defiant joy. His new book Let The Light Pour In celebrates this morning practice with a selection of these life-affirming poems collected together for the first time. With this event, you're invited to "step into the light".
Exuberant, funny and sometimes even heart-wrenching, Lemn Sissay is a BAFTA-nominated, award-winning poet, playwright, memoirist, performer and broadcaster. He is the author of several collections of poetry, including Gold From The Stone, the Sunday Times number-one bestselling memoir My Name Is Why, numerous plays for stage and radio, and the children's book Don't Ask The Dragon, illustrated by Gregg Stobbs. Lemn was awarded The PEN Pinter Prize in 2019 and he was the first poet commissioned to write for the London Olympics 2012. He has judged many prestigious literary competitions and has worked in music, including with Leftfield, Baaba Maal and the BBC Proms.
In 2020, the BBC series imagine… broadcast a two-part documentary about his life, The Memory Of Me, after he brought a legal case against the government for critical mistakes in the first 18 years of his life. In 2021 he was named OBE for services to Literature and Charity. The University of Huddersfield has awarded him an honorary doctorate, and has also established the Lemn Sissay PhD scholarship for Care Leavers.
As one of Manchester Literature Festival's "most loved performers" and "always a pleasure to watch", Lemn Sissay (Chancellor at the University of Manchester until 2022 and now Honorary Chair in Creative Writing) will also be performing in a special pre-programme event at HOME on Saturday 16 September (7.30pm) – but hurry as tickets are selling like hot cakes!
And while you're checking out Lawrence Batley Theatre, be sure check out Attic Stories hosted by award-winning poet Rose Condo – the next is Wednesday 27 September (7.30-9.30pm) with open mic and special guest performer Zara Sehar, a Halifax-based poet who competed at the Uni Slam in Birmingham this year.
A celebration of poetry, prose and performance, spanning venues across the town and streamed online, the full programme will run 18 to 28 April 2024. Drawing audiences of 4,000 and counting each spring, Huddersfield Literature Festival – or HuddLitFest to its friends! – plays host to around 50 events, from in-conversations, talks and panel discussions to creative writing workshops, open mic nights and poetry slams.
Established in 2006, the award-winning Huddersfield Literature Festival is well known for its inclusivity and accessibility. Many events are free or low cost, many have live subtitling by Stagetext for audiences who have hearing difficulties, and there are also autism-friendly events on offer. Huddersfield Literature Festival is known for its diversity, and works to specific goals in terms of representation for BAME, disability, gender, LGBTQ+, social class and age-groups across audiences, performers, volunteers, venues and management. The Festival also boasts a pretty amazing approval rating from audiences, ranging from 98% to 100% each year.