Halloween Party at Escape to Freight Island
Johnny James, Managing Editor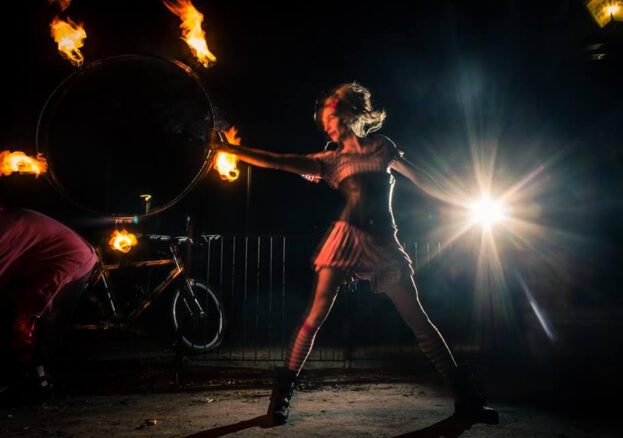 Go knocking on Escape to Freight Island's door this Halloween, and you're in for a treat. The Baring Street venue is throwing a socially-distanced, all-day party featuring a stellar line-up of DJs and spooktacular entertainment courtesy of Elixir Circus Arts.
The 10-hour party – which we can all agree should have been called 'Escape to Fright Island' – will be soundtracked by an eclectic bunch of DJs from Manchester and beyond. Headlining is Hattie Pearson, the presenter and DJ behind Manchester's glitter-fuelled 80s and 90s club night, Girls On Film. She's joined on the line-up by Rhys Webb from The Horrors, who will be spinning everything from other-worldly psych and electronica to punk and post-punk.
Earlier in the day, Joe Packman will be playing a mix of indie, disco and dance, while local disco queens The Beat Chics will be serving up funk, soul, disco, northern soul and 60's R&B, as well as a hearty mix of current female-fronted bangers from around the world. Finally, Krysko, who has held residencies at The Redlight, Sankeys Soap and The Warehouse Project, will be traversing a range of electronic genres, with a focus on house.
Dialling up the spookiness will be walkabout performances from Elixir Circus Arts – a collective of theatre-makers, circus performers and spine tinglers. Dressed in suitably sinister attire, they'll be bringing devilish entertainment to your tableside as you diligently work your way through Escape to Freight Island's numerous craft beer lists and street food menus (I recommend the vegan burger from Patty Queen and EVERYTHING from Krum doughnuts).
Whilst 2020 has had its way with the majority of Manchester's Halloween parties, let us praise the dark lord that this one, at least, remains standing, holding out a much-needed treat in a world of tricks.
The event isn't ticketed but you do need to reserve a table. Just 'Book Now' below.
Set times:
10:00 – 12:00 Krysko
12:00 – 14:00 The Beat Chics
14:00 – 17:00 Joe Packman
17:00 – 20:00 Rhys Webb (The Horrors)
20:00 – 22:00 Hattie Pearson