Gojira at Victoria Warehouse
Johnny James, Managing Editor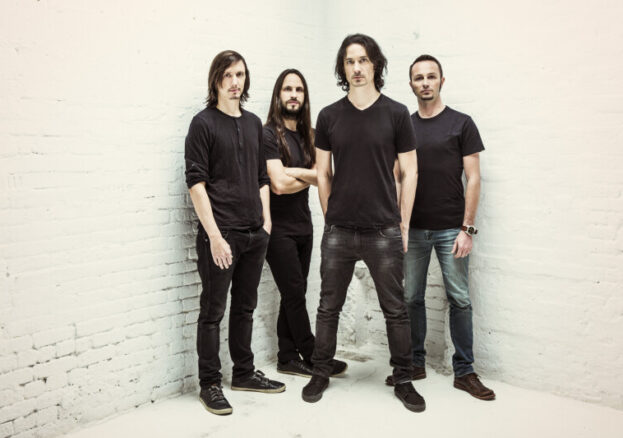 Gojira, France's biggest metal export, head to Manchester this February – the band's first headline show in the city since their acclaimed 2021 album, Fortitude.
Ever since their 1996 formation in Bayonne, a city in the southwest of France, Gojira have been engaged in an ever-evolving experiment in extreme metal built upon meditations on the world around them, particularly with regards to environmental destruction. The Duplantier brothers – guitarist/vocalist Joe and drummer Mario – with fellow Frenchmen Jean Michel Labadie on bass and Christian Andreu on guitar, filled their first two albums with progressive death metal headbangers, led by Joe Duplantier's pitch-perfect growls. They quickly took off in the underground – a place their uncompromisingly dense, complex and oblique music felt like it was destined to remain.
But 2005's From Mars To Sirius turned too many heads; it was too good. At once intelligent and window shatteringly heavy, the record served up an expansive examination of humanity's struggle to coexist without harm. It established a stranglehold on the extreme metal community, cemented by the band's accompanying live shows – utter devastation in melodic and harmonic form. Their technical proficiency was coming into full view now, with percussive kingpin Mario Duplantier's irregular time-signatures and savage rhythms a standout alongside his brother's revered vocals. Fans begged for more.
More came in 2008 with The Way of All Flesh, an equally monumental-sounding album revolving around the dilemma of mortal demise, before 2012's L'Enfant Sauvage, which sustained the band's trademark blend of unfathomable heaviness, structural invention and ecological-cum-existential poetry while subtly enhancing its dramatic and emotional impact.
The band's next move was a change of pace. 2016's Magma, Gojira's shortest and most concise album to date, was a melody-led, emotionally-charged record in which the band managed accessibility whilst remaining typically studious in their technical ambition. From the cavernous atmospherics of 'Silvera' to more venomous tracks like 'Stranded' (probably their catchiest tune ever), it served up another new side to the band – one that sidestepped the sprawling, progressive frameworks of albums past in favour of a taut, catchy crossover effort. It won them a Grammy nomination, brought them legions of new fans and led to an arena slot opening for Metallica.
If Magma hinted that this once-cult band could be next in line for the modern metal throne, then Fortitude might be the album that cements them as the genre's next heavyweight arena headliner. Recorded and produced by Joe Duplantier and mixed by Andy Wallace (Nirvana, Rage Against The Machine), Fortitude serves up a collection of songs urging humanity to imagine a new world – and then make it happen.
The irresistible hype-building single 'Born for One Thing' opens the album in thrilling style, packed with the crushingly heavy riffs (replete with characteristic screeching harmonics) and soaring choruses that Gojira do so well. The second track – anthemic, environmentalist single 'Amazonia' – launched alongside Operation Amazonia, a philanthropic effort aimed at ending genocide and ecocide in the Amazon (it has raised $300k so far, which will be put towards aiding the Amazon's indigenous tribes).
Following apocalyptic banger 'Another World' – a brutal and progressive track harking back to the band's early output – the album's more experimental middle act takes hold. Here Joe Duplantier doubles down on the more melodious vocals that have crept into his songwriting in recent years, but without capitulating to obvious hooks in a bid for radio supremacy. The title-track has a campfire groove and the loosest vibe they've ever allowed themselves while The Chant is a huge bluesy hymnal that the band describes as a 'healing ritual'. The record then comes to an explosive end with proggy anthem 'The Trails' and 'Grind' – their thrashiest song in over a decade.
Long one of the genre's more free-thinking acts, Gojira expand their horizons ever further on their seventh album, and cement their status as the next in line to the modern metal throne. Catch them on their coronation tour at Victoria Warehouse, 19 February.