Giuseppe Penone at Yorkshire Sculpture Park
Sara Jaspan, Exhibitions Editor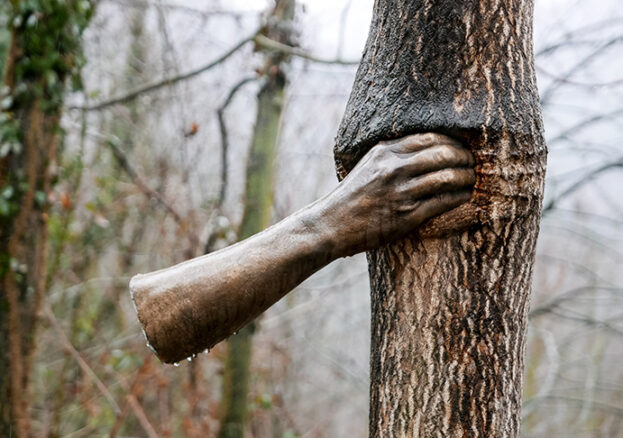 As one of the world's foremost sculpture parks, it's hard to think of a better setting than YSP in which to experience the work of the eminent Italian sculptor Giuseppe Penone – an artist whose monumental pieces demand an abundance of space, light and quiet contemplation. The show brings together several of the artist's most significant achievements from the past five decades, including many that have not previously been seen in the UK.
Among these, the 30 meter-long Matrice (2015) is likely to be a key highlight. Passing through a series of specially formed wall apertures, the piece will span the entire length of the Underground Gallery, holding its own amidst the surrounding sparsity of the room. Formed from the hollowed-out trunk of a fir tree, bisected vertically along one of its growth rings and placed horizontally, end to end, the sculpture is interrupted at two points along its length by cast bronze elements that mirror the thickness and shape of an earlier point in the tree's life. Materialising time past.
Trees play a central role in Penone's practice, and other important pieces such as his towering open-air tree sculptures will be presented outdoors in YSP's rolling landscape. Born in 1947 in the Piedmont region of Italy, the artist first began making work in the woods near his childhood home and has since continued to focus almost exclusively on natural materials, such as stone, water, marble and native metals (leading to his association with the Italian arte povera movement of the 1960s and 70s). His output could perhaps be best described as a series of poetic reflections upon, and physical manifestations of, lived and breathed experiences with these materials, drawing on a deep understanding of their tangible and symbolic properties. The overarching themes of Penone's work have never strayed far from the flow of time, memory, the human body, transience, and the fleeting nature of human, animal and plant life-cycles.
Other pieces within the YSP show will include photographs from Penone's pivotal 1968 Alpi marittime series (early, experimental pieces in which saplings and streams became central protagonists), and his iconic acacia thorn canvases, which powerfully contrast the fragile, almost skin-like appearance of veined marble with the inherent pain associated with a living network of sharp, jagged thorns.
Grounded in a more poetic, 'geological' sense of time, Penone's work stands apart from the everyday concerns of the modern world. "I feel the forest breathing, and hear the slow, inexorable growth of the wood," he wrote in 1968. "I match my breathing to that of the green world around me, I feel the flow of the tree around my hand placed against the trunk." His art bestows a rare sense of calm and connectedness, offering visitors a precious moment of reprieve from the distracted conditions of today.