From This World, to That Which Is to Come at The Tetley
Alice Hiley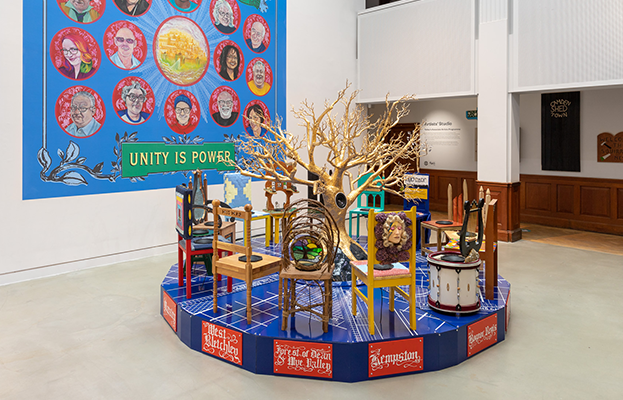 From This World, to That Which Is to Come is an exhibition by interdisciplinary artist Mel Brimfield, displayed online and open to visitors at The Tetley, Leeds.
From This World, to That Which Is to Come takes its title from John Bunyan's 1678 parable The Pilgrim's Progress, which describes a fictional pilgrimage from 'The City of Destruction' to 'The Celestial City'. Brimfield reimagines this tale as an allegory for a collapse of mental health and the fraught journey to recovery.
The exhibition is the result of two years' work. During research residencies at Bethlem Royal Hospital's National Psychosis Unit, and at Kings College Institute of Psychiatry, Pscyhology and Neuroscience, Brimfield carried out interviews and workshops with patients, carers, nursing staff, neuroscientists, clinicians and activists. The exhibition is the culmination of the personal testimonies collected from this work.
Central to the exhibition is STAND, a sculptural audio installation. Based in the atrium of The Tetley, the installation's 16 speakers project audio performed by over 100 collaborators, including mental health service staff, patients and prison inmates. The work highlights the community groups and networks across the UK which are offering vital support at a time of crisis for mental health.
Through audio monologues, theatrical sets, animation and large-scale drawings, From This World, to That Which Is to Come explores the alienating effect of mental ill-health and the treatment mentally ill individuals are subjected to. It also celebrates the radical healing potential of collective creative action and compassion; the slogan 'Unity is Power' is central to one of the artworks which epitomises the collection.
Mel Brimfield's interdisciplinary and collaborative practice is focused on live scripted performance, incorporating moving image, staged audio, installation and drawing. Combining elements of theatre, live art and film, her work aims to bring Arts audiences together and erode boundaries between the creative fields.