Fledge: A Year of Birds at Contemporary Six
Sara Jaspan, Exhibitions Editor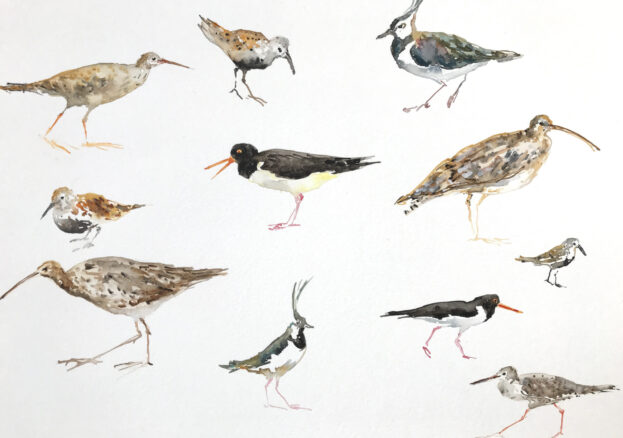 Gifted with song and flight, birds have served as symbols of hope, freedom and transcendence throughout history. The endurance of this within contemporary culture was demonstrated last spring when, amidst the darkness of the unfolding pandemic, many of us found unexpected joy and solace in avian creatures. Being forced to slow down and take closer note of our immediate surroundings was largely the cause. Though the sharp of ear also detected a change in their song as birds in urban centres no longer had to compete with as much noise from traffic (just one of the many positive effects of the great 'anthropause' on nature being swiftly reversed in the rush to get 'back to normal').
Fledge: A Year of Birds at Contemporary Six celebrates the resurgence of appreciation for Britain's native birds over the course of the last year through the work of five artists: Mary Griffiths, Susan Platt, Liam Spencer, Clare Bigger, and Ann Lewis. Each responded to the birds near their homes using whatever materials they had to hand – from watercolours to steel. The exhibition will also be accompanied by extracts from a series of 'pen portraits' exchanged during the first lockdown between singer-songwriter and BBC Radio 6 presenter Guy Garvey, and Adam O'Riordan, Reader in Contemporary Poetry and Fiction at the Manchester Writing School, with illustrations by Platt.
With the arrival of spring this year accompanied by the government's 'roadmap out of lockdown', Fledge seems an appropriate opportunity for a moment of reflection. Another chance to stop and consider how much pleasure can be derived simply from noticing the natural world around us, before we plunge back into our usual state of busyness and distraction.