Fernand Léger: New Times, New Pleasures at Tate Liverpool
Sara Jaspan, Exhibitions Editor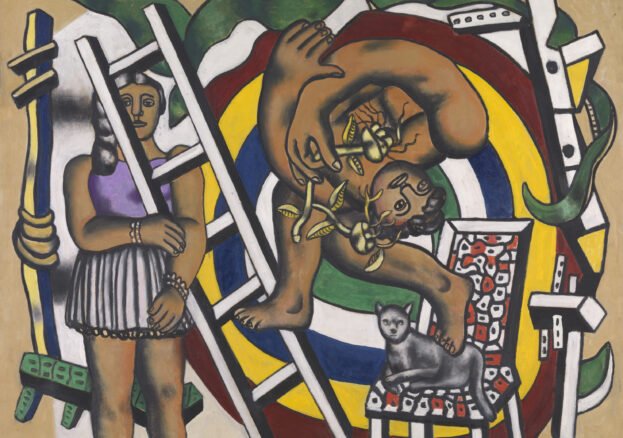 Though the French painter, sculptor and filmmaker Fernand Léger (1881-1955) is best known for his striking contribution to cubism, it is the political underpinning of his creative vision that Tate Liverpool will highlight in its major new retrospective of the renowned artist's work – the first to be staged in the UK for over 30 years.
Bringing together a rare collection of drawings, a large-scale mural, films, graphic design, books, textiles and over 40 paintings – many of which have never been seen in Britain before – New Times, New Pleasures promises to capture the breadth and energy of Léger's output. Through this impressive survey, the impact of many of the seismic historic, artistic and technological developments of the early 20th century will be traced; from the artist's experiences serving in the French Army during World War One to his interest in the emerging field of cinema – crystallising in his 1924 experimental film Ballet Mécanique, made in collaboration with the surrealist artist Man Ray among others and which will feature in the exhibition.
Yet other influences, such as Léger's modest upbringing (born in Lower Normandy to a cattle farming family) and later the socialist, utopian spirit that spread among Europe's artistic avant-garde, look set to also come to the fore. From an early age, central to Léger's work was a belief that art should be enjoyed by all, not just society's privileged elite, and should play a role in elevating the quality of life for 'working people' – a view he gave many impassioned public speeches and lectures on. The subjects of his paintings were often drawn from the world of labour, depicting groups of construction workers, for example, bestowed with a sense of monumentality and dignity.
Léger also laid the ground for pop art – a movement considered democratic in its non-discriminatory embrace of popular culture – through his boldly simplified treatment of modern life and the impact of everyday street advertising like posters and neon signs on his graphic-style. A major highlight of the exhibition will be 'Essential Happiness, New Pleasures' (1937/2011) – a striking photo-mural with clear 'pop' elements created by Léger and the architect and designer Charlotte Perriand – which promoted unity and peace among nations against a backdrop of economic depression and the rise of totalitarianism in Europe.
Léger's career has always been somewhat overshadowed by his contemporaries, especially Pablo Picasso, yet there seems to be a stir of new interest in this significant artist as the Tate Liverpool retrospective coincides with another at BOZAR in Brussels. Bringing together important works from across Europe, this is a rare opportunity to experience a large cross-section of Léger's remarkable oeuvre up-close, and should not be missed.