Enchanted Chandelier by Transe Express at The Piece Hall
Gemma Gibb, Associate Editor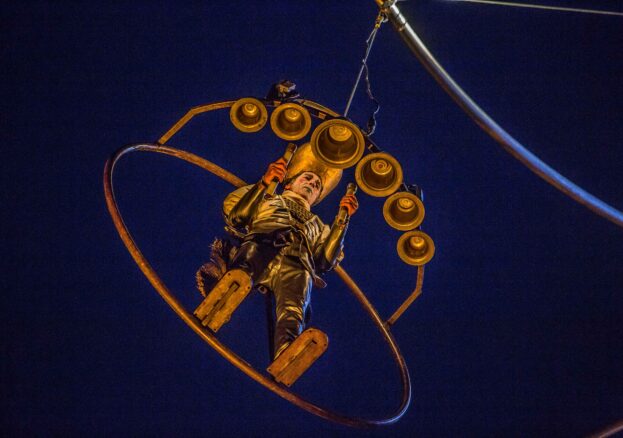 Almost 250 years ago the historic Piece Hall first opened its doors as a pioneering centre for culture and commerce with an outdoor spectacular featuring spectacular feats and fireworks of the day. It's with a bold nod to the past and the future that the grand finale of its Welcome festival celebrating its exciting next chapter as one of the most exciting cultural and civic spaces in the UK should culminate in one of the most spectacular aerial shows that has been leaving audiences agog (in a good way) all over the world.
The Enchanted Chandelier is a multi- award winning "circus of the skies" from pioneering French aerial artists Transe Express. Expect a bewitching tale performed by unusual characters, musicians and "fire-wielding acrobats" who will transport you into a baroque world like no other culminating in high altitude mischief on an expansive musical chandelier 50 metres in the air.
With all the charm of a magical toybox and signature magic of this acclaimed company, we recommend booking the free tickets fast .
We can't think of a more perfect venue for outdoor arts experiences like this – pioneering performance that provides all the big wows set against the stunning centuries old Piece Hall cannot surely fail to provoke those incredibly memorable almost spiritual moments of wonder that sometimes only the arts can.