Electric Gamebox at The Arndale
Shekina Rose, Families Editor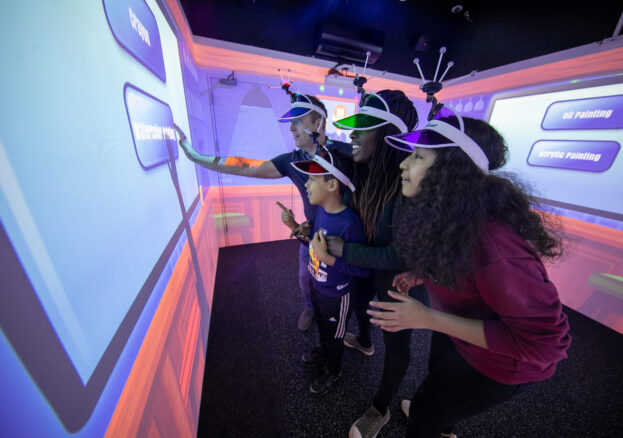 Are you ready for an immersive, digital gaming adventure? Step into the Electric Gamebox in the Arndale Centre in Manchester, designed for the whole family to enjoy. Electric Gamebox is an interactive, fully private high-tech digital room full of fun and interactive arcade-style games and challenges. Through a combination of projection mapping, touch screen technology and surround sound, you and your team mates will be taken on a totally new experience.
Once in the room, you'll be able to choose from a number of exciting games, and you can also choose the length of your game depending on how much time you have, with each game being 15, 30 or 60 minutes long.
Feeling nostalgic? Have a go at the Alien Aptitude Test, a Social Challenge game, where you work with your team to impress the aliens! This is a game created to make you think and transport you and your team mates back to to the 80s, also featuring some of your favourite 80's tunes!
Conversely, you can take a trip into the future in Rescue The Royals. It's 2026 and the Royal Family have been taken captive. It's up to you to rescue them!
And here's one for the whole family. The race is on for the Shaun the Sheep's Championsheeps. Join Shaun and his flock of fluffy friends for some digital sporting events and challenges.
Travel to Mars on a spaceship with the Ticket To Mars game, where you and your team will work together in an attempt to colonise the Red Planet, or go head to head against your team mates in Temple of Coins, a 30 minute arcade battle game.
Each box can fit two to six players, so this is a perfect activity for the whole family, or for fun with your friends. If you want to attend with more than six people, there are multiple gameboxes on site, and you can play against each other to see which team gets the best score! Bookings are private so you will always be playing with people you know.
Games are suitable for ages five and up.