Destroyer at HOME
Tom Grieve, Cinema Editor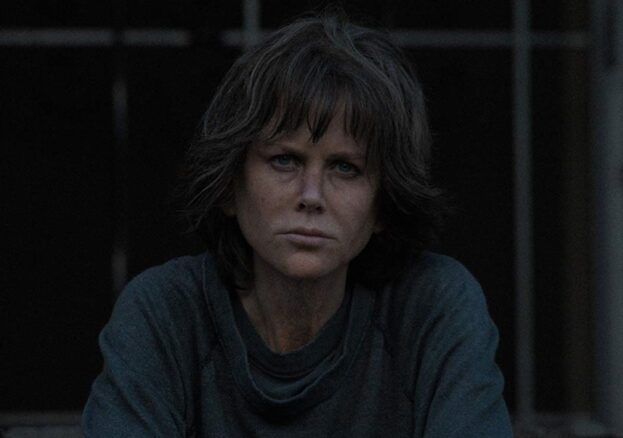 "I'm mad, I'm so fucking mad it's burnt a circuit."
Director Karyn Kusama (Jennifer's Body, The Invitation) enlists the considerable talents of Nicole Kidman as she returns to Los Angeles for a turn amongst the sleaze, sunshine and dark glitter of the neo-noir. Immediately noticeable is the way Kidman has transformed herself for her role as Erin Bell, a drunken, haggard LAPD detective out to atone for past sins — sins, which are dredged to the surface by the appearance of a body on the edge of the Los Angeles river. Dressed in battered leather and blue denim, Kidman half-disappears behind black and bloodshot eyes as she sells a character hardened by over a decade of guilt and booze.
The dead man by the river has a distinctive tattoo on the back of his neck, and a dye pack stained bill lying next to him. These clues link the man to a case in Bell's past, and while the body does not promise salvation, it offers at least a shot at retribution. Kusama uses flashbacks to sketch out the events of 17 years earlier, when Bell worked undercover with her partner Chris (Sebastian Stan) to infiltrate a gang of bank robbers. Matched up by the department, the pair become lovers for real and Bell falls pregnant. The gang is led by the psychotic Silas (Toby Kebbell) but the allure of a profitable score proves enough to test the officer's loyalty to the job.
Destroyer doles out the flashbacks at regular intervals, but it's clear from the off that the undercover assignment ends in trauma and tragedy, and that Silas is back on the scene. Bell is now a mother — the undercover pregnancy resulting in a daughter, Shelby (Jade Pettyjohn), who appears determined to follow her mother into the city's darkness. These maternal struggles provide a slice of rote motivation which the film could perhaps do without, but they do provide Kidman's character with an edge as she sleuths and then pummels her way through her book of contacts en route to Silas.
Much of the discussion surrounding Destroyer will understandably focus on Kidman's transformation. Audiences curious to see a new side to the A-lister won't be disappointed by this grubby, committed performance. The films primary pleasures though — for this writer at least — lie in its moody depiction of modern-day Los Angeles. It evokes Chandler and Chinatown as Bell trawls the backstreets, rolls through hillside brush and tramps her way through gleaming hilltop mansions in pursuit of her prey. Kusama is not happy to retread old genre trails entirely though and she keeps her cards close to the very end, concluding on a intriguing grace note which can be read as a simple structural conceit or something altogether stranger and more metaphysical.