David Gibb and high energy exploits at Ramsbottom Festival
Gemma Gibb, Associate Editor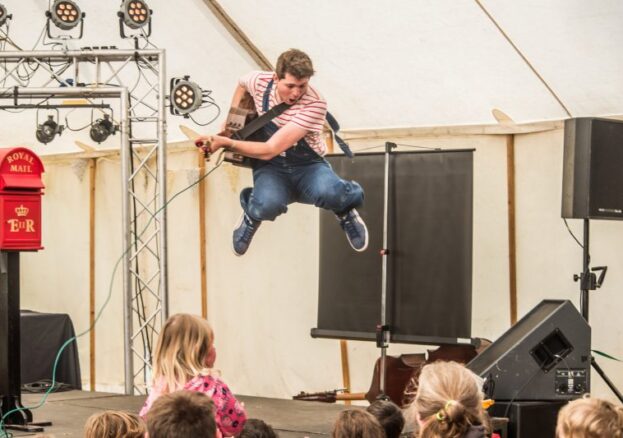 We love that Ramsbottom Festival offers families the opportunity to enjoy properly great live music and shake a tailfeather together in a stunning setting. Along with the impressive list of headliners and emerging artists, here are our top music picks for little and big kids.
Award-winning Derbyshire songwriter and storyteller David Gibb (performing Saturday 17th) has a well-deserved cult following for his stage show which includes tales of dragons and driving chocolate cars. His lyrics are genuinely side-splitting and tunes guaranteed to get stuck in your head for days. A songwriting workshop also offers the chance to write a top tune with him … with past examples including the soaring and now classic anthem (for those involved) "Slug In A Mug" what's not to love?
Tear it up on Saturday 17th to performances from the outlandish folkNroll seven-piece Holy Moly and the Crackers and South Wales' indie folk roots band Rusty Shackle. Take a breather by chilling out to Maia  – self-proclaimed inventors of "Psychedelic Sci-fi folk".
Sunday's line up promises more high energy footstomping and incredible sounds from Gordie Mackeeman and his Rhythm Boys. Known as Crazy Legs Gordie is a feat of wonder performing high octane dance while playing the violin and delivering totally perfect harmonies to old-time roots. Phew.
Also on Sunday don't miss the talented ten-piece Rajasthan Heritage Brass Band performing rousing Rajastani folk songs, Bollywood and Bhangra hits.
With a line up this good "Dad Dancing" will be a thing of the past.