CANCELLED – Dark Waters at HOME
Tom Grieve, Cinema Editor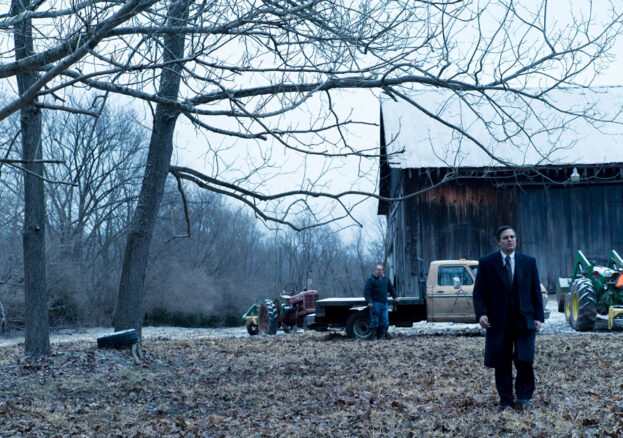 Mark Ruffalo plays Rob Bilott, a big shot pharmaceutical defence lawyer who changes track to take on chemical giant DuPont in Todd Haynes' gripping new procedural. Based upon true events, Dark Waters shows us Bilott taking up the cause of a family acquaintance — a West Virginia farmer (Bill Camp) who has lost 190 cows to mysterious and grisly medical ailments. The case becomes a crusade that dominates decades of Bilott's life, as he fights dark forces to uncover the ways in which DuPont's development of Teflon has poisoned not only the residents of Parkersburg, West Virginia, but potentially the whole world.
Haynes emerged from the radical New Queer Cinema movement of the 1990s, and at first glance the straight-forward subject matter of Dark Waters looks an odd fit. But Haynes has demonstrated a fascination with traditional genre and modes of filmmaking throughout his career, from his experimental biopics (Velvet Goldmine, I'm Not There) to his reworking of Hollywood melodrama (Carol, Far From Heaven). His new film fits into a lineage of paranoid thrillers and whistleblower procedurals that encompasses everything from The Conversation and All the Presidents Men to The Insider.
Indeed, there can be no suggestion that the director has abandoned his counter-cultural tendencies. This is a radically angry, effective film and DuPont cannot be happy to be on the receiving end of the filmmaker's ire. Working with his long-time cinematographer Edward Lachman, Haynes uses a muted, poisonous palette of sickly greens and murky greys alongside judicious canted angles and shadowy interiors. The result is a queasy depiction of a tainted world bound to corporate interests and the debilitating yet heroic efforts required to even begin to fight back.