Insane Animals at HOME
Kristy Stott, Theatre Editor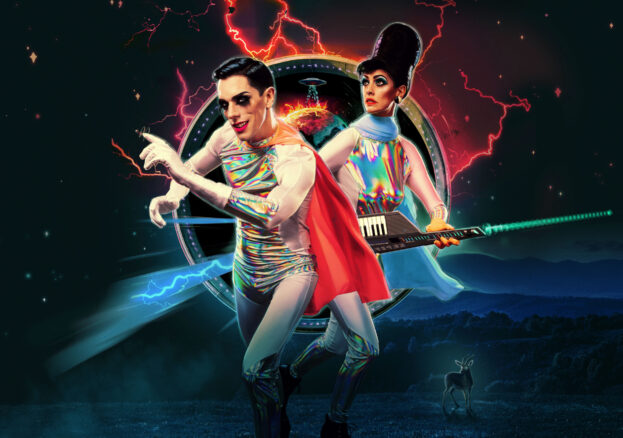 Cult cabaret duo Bourgeois and Maurice bring the world-premiere of their time-travelling musical comedy to HOME Manchester this March. Bourgeois and Maurice's Insane Animals promises to be a glittering production in which two hyper-glam aliens arrive from a distant galaxy, on a mission to rescue the present. Bourgeois and Maurice are known for their standoffish and hugely funny performance style and Insane Animals looks to be a comedic tour-de-force.
Described by The Guardian as "modern-day music hall stars", Bourgeois and Maurice, aka writer-performers Liv Morris and George Heyworth, are hailed as leaders of the UK's alternative performance scene. They first performed in 2007 and have since gone on to tour the globe. Producing and touring seven full-length theatre shows: How to Save the World Without Really Trying (2016), Social Work (2009), Shedding Skin (2010), Can't Dance (2010), Fa La La La La/ Started a Band (2011), Sugartits (2012) and Middle of the Road (2014), they perform regularly at the Soho Theatre, London.
Directed by Philip McMahon, Insane Animals promises to be an extraordinary joyride from the beginning of civilization to the sparkling near future. With the planet in a state of chaos and humanity spiraling towards extinction, two aliens land on earth with one mission: to help the human species survive.
Packed with savagely satirical songs, the show features a cast of eight performer-musicians and a full band. Tackling larger themes, Bourgeois and Maurice's Insane Animals will be the first time the duo has written for a larger cast.