Boundary Songs: Notes from the Edge of the Lake District National Park at Cross Lane Projects in Kendal
Sara Jaspan, Exhibitions Editor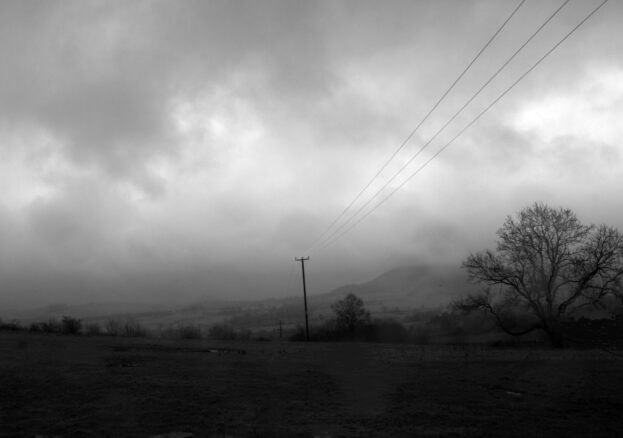 Cross Lane Projects presents Boundary Songs: Notes from the Edge of the Lake District National – a collaborative exhibition that engages with the complex poetics, politics and psycho-geography of the gallery's immediate surroundings, located in Kendal, Cumbria, the heart of the Lakes. The show features work by three artists, David Banning, Iain Sharpe & Julian Hyde, who will together lead visitors on an alternative journey around the fluctuating borderlands of the protected region, exploring 'a landscape consumed by ghosts of nostalgia', eschewing pastoral sentimentalism in favour of a more nuanced look.
Through an atmospheric, fragmentary assemblage of pencil drawings, photography and moving image, the show circles around sites such as the derelict Valley End garage near Silecroft (which property developers had their eyes on), the gates of Sellafield on the Cumbrian coast, and Broughton-in-Furness where a dispute over National Grid plans to erect a series of giant pylons led to a campaign to extend the borders of the national park. Despite the gentle beauty of the works, they speak to a wide range of contemporary issues connected with the region's special status, from the social and environmental impact of increased tourism to rising house prices, 'second home syndrome' and a local desire for greater political transparency and reform.
We're particularly looking forward to experiencing Banning's two films, both a meditation upon the 'dream-like state' of the national park perimeter, informed by the work of artists and filmmakers including Derek Jarman, Iain Sinclair and Andrei Tarkovsky, and set to music from the artist Richard Skelton's melancholic 'Border Ballads' album. The exhibition also forms a companion piece to Banning's new book of the same title, which began when he set off on a long walk around the national park boundary at the end of 2017, taking over 100 photographs along the way.