Beautiful world, where are you? at Victoria Gallery & Museum
Sara Jaspan, Exhibitions Editor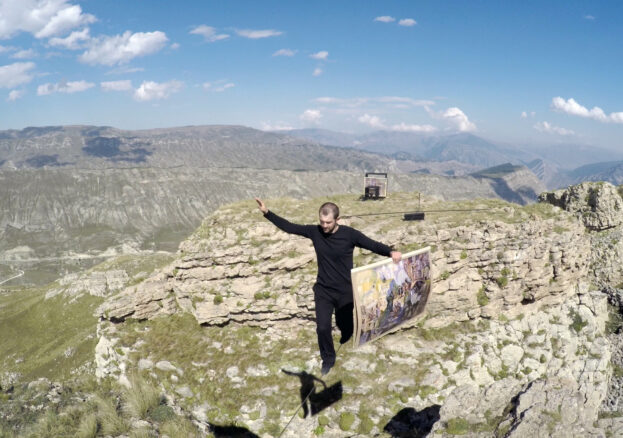 One of the leading artists of his generation, Francis Alÿs has long been celebrated for his ability to speak of often deeply complex geo-political issues or offer fragments of brightly incisive social commentary through incredibly simple, poetic acts, which he performs and captures using a wide variety of media. For Liverpool Biennial 2018, the artist presents Age Piece – a series of postcard-sized paintings made between the 1980s and today whilst scouting for new locations for future film projects, often in war zones such as Israel and Palestine or Afghanistan and Iraq.
As well as tapping into the transitory reality of the place where each painting was made, the collective body of work also makes a wider, self-reflexive comment on the condition of global tourism within the contemporary art scene; a seemingly bold statement within the context of Liverpool Biennial – an international contemporary art festival which actively invites artists to respond to a city in which most are no more than passing visitors.
Context, after all, is everything – a point that lies at the heart of Joseph Grigely's 2012 series Songs Without Words, which presents newspaper images of singers and musicians removed from their original accompanying captions, in order to draw attention to the essential ambiguity and, at times, surreal absurdity of the world without its familiar frames.
Elsewhere, Taus Makhacheva's video piece Tightrope (2015), made in collaboration with a fifth-generation tightrope walker and which met with great success at the 2017 Venice Biennale, uses an incredible feat of balance to explore the delicate intricacies of the political situation in Dagestan – one of the most violent of all Russian republics, where the film is set – alongside the intense personal risk involved in any creative act.
Moving between boarders, Aslan Gaisumov's powerful film People of No Consequences (2016) documents the gathering of a group of elderly male and female survivors of the 1944 Soviet deportation of the Chechen and Ingush nations of Central Asia – a strong companion to his moving film installation Keicheyuhea (2017) at St. George's Hall.
A major highlight of this section of Beautiful world, where are you? however is the setting itself. The works presented here span several floors of the Victoria Gallery & Museum – a stunning feat of Grade II listed 'redbrick' architecture by Alfred Waterhouse with a breath-taking art deco interior of floor-to-ceiling ceramic tiles. It's also one of the places where visitors will find Worlds within worlds – an innovative sub-strand of this year's festival by guest curator Kitty Scott, which invites audiences to engage with Liverpool's layered past through the rich histories and stories evoked by objects and artefacts from the city's civic collections.
A series of floor-based sculptures by Holly Hendry, made from unusual combinations of materials, such as jesmonite, cement and oak; and a set of paintings by Silke Otto-Knapp can be found here too.
Check out the rest of our guide to Liverpool Biennial 2018.