Beautiful world, where are you? at St George's Hall
Sara Jaspan, Exhibitions Editor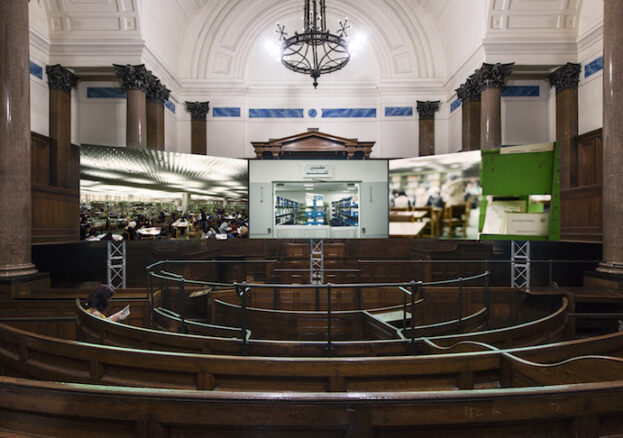 Liverpool Biennial is well known for the opportunities it often brings to step inside some of the city's most unusual or rarely accessible spaces (such as the Toxteth Reservoir which provided the dramatic backdrop for Rita McBride's atmospheric light installation in 2016). But this year it has surpassed itself, presenting a whole series of works in the former underground prison cells and original courtroom of the Grade I listed St George's Hall. Fittingly, this section of the festival has a distinctly political flavour, dealing with issues of power, authority and social justice.
We're especially looking forward to encountering Turner Prize 2018 nominee Naeem Mohaiemen's powerful three-channel documentary Two Meetings and a Funeral (2017), which examines Cold War-era power struggles and chronicles the pivot of the Third World project from Socialism to its ideological counterpart Islamism. As well as a newly commissioned film by artist Inci Eviner, exploring ideas of heaven that oppose systems of patriarchal order and the long-established links between religion and power-wielding authority.
Elsewhere, Lamia Joreige's three-channel video installation After the River (2016) uses the river Nahr in Beirut to reflect on the notion of borders. And Aslan Gaisumov's moving film installation Keicheyuhea (2017) highlights a known but little-discussed chapter of history, following the journey of the artist's grandmother as she returns to her lost homeland in North Caucasus (Southern Russia) for the first time since the displacement of her family during World War II as part of the forced-deportation of Chechen and Ingush nations.
Counterbalancing the many complex, highly-charged narratives that animate this section of the festival, Joyce Wieland's 1967 classic piece of experimental cinema Sailboat should provide a welcome space for contemplation. Its pure, childlike image of a yacht bobbing on the distant horizon offers a stripped-back meditation on desire, loss and yearning for an ideal perfection, always just out of reach.
Beautiful world, where are you? at St. George's Hall also features a work by Chou Yu-Cheng interrogating the act of protest, and Modest Livelihood – a collaboration between Brian Jurgen and Duane Linklater in response to both artists' First Nations identity.
Check out the rest of our guide to Liverpool Biennial 2018 here.