Beautiful world, where are you? around Liverpool
Sara Jaspan, Exhibitions Editor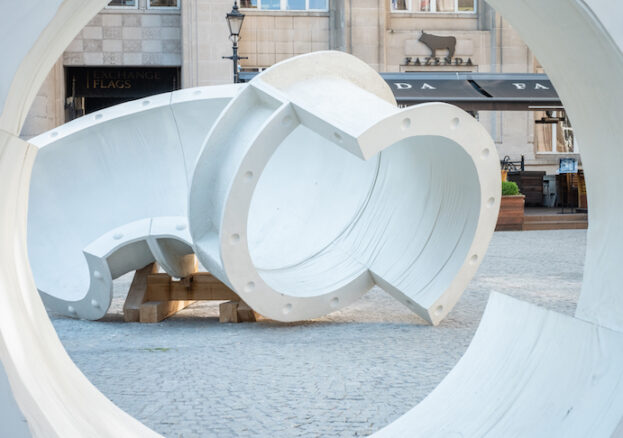 As we especially saw in 2016, Liverpool Biennial does not limit itself to the regular confines of four walls. Quite the opposite; the festival actively encourages visitors to get out and engage with the city in new and inventive ways. For this, the 10th edition, its ever-popular programme of outdoor public art commissions and works presented in unusual spaces looks unlikely to disappoint.
Among the diverse mix of works, we're especially excited to see Holly Hendry's dramatic takeover of Exchange Flags with a large-scale sculpture made up of a series of glass reinforced concrete 'pipes'. The piece is informed by her interest in Liverpool's architecture and the legendary Williamson Tunnels – a labyrinthine network of underground tunnels in the Edge Hill area, built by the eccentric local businessman Joseph Williamson (posthumously nicknamed 'the Mad Mole') between 1810 and 1840, for reasons that still remain uncertain to this day.
Presumably in part response to the numerous inspired proposals that led to Liverpool Metropolitan Cathedral's enigmatic design – locally known by many as 'Paddy's Wigwam' or 'the Pope's Launching Pad' – Ryan Gander has worked closely with local school children to create a series of bench-like sculptures out of a deconstructed version of the modernist architect Frederick Gibberd's winning maquette. If Biennial 2016's 'Children's Episode', which cast children as artist-collaborators, is anything to go by then this should be a particularly creative addition to the 2018 offering. (Plus: situated on the plateau behind the Cathedral, the public seating arrangement should also provide the perfect spot to stop and consider the next stop on your festival itinerary. Check out our own suggestions here.)
Over in Toxteth, just a short bus ride or walk away, Mohamed Bourouissa's Resilience Garden (2018) is once again a work of genuine collaboration. The artist invited local people, gardeners, school pupils and teachers to help him create the green sanctuary, which is inspired by the designs of a patient of the psychoanalyst and writer Franz Fanon at a psychiatric hospital in Algeria, and reflects the inner organisation of mental space in its structure. The project taps into the role of gardening and nature as a form of healing therapy, and the need for us all to have a little peace and tranquillity in our lives.
Within the cavernous space of the Invisible Wind Factory – now a main staple of Liverpool's thriving independent art scene – Grace, Charles and the Sunflower (2018) is a new mosaic by Paulina Olowska that references the socialist belief in the power of public art as a means of offering optimistic visions of a better world. The design is based on another mosaic in the village of Raba Sdroj where the artist lives, which has fallen into disrepair since 1960s post-soviet style art has slipped from favour with the Polish government.
Out in the city's streets, The List is a powerful ongoing project facilitated by artist Banu Cennetoğlu which uses public spaces such as billboards, transport networks and newspapers to publish up-to-date information relating to the deaths of the more than 34,000 refugees and migrants who have lost their lives within or on the boarders of Europe since 1993. The List is compiled and updated each year by UNITED for Intercultural Action, an anti-discrimination network of 550 organisations in 48 countries. Outside the Bluecoat, meanwhile, Janice Kerbel presents a series of silkscreen posters which explore how physical fights and violence can both erupt and dissipate between humans unannounced, regardless of context or setting.
Note: Mohamed Bourouissa's Resilience Garden is only open on weekends between 2 and 5pm. If you're visiting during the week then head to FACT where you can watch a short film about the commission instead.
Check out the rest of our guide to Liverpool Biennial 2018 here.