Back to the Future and Enchantment Under the Sea Disco
Tom Grieve, Cinema Editor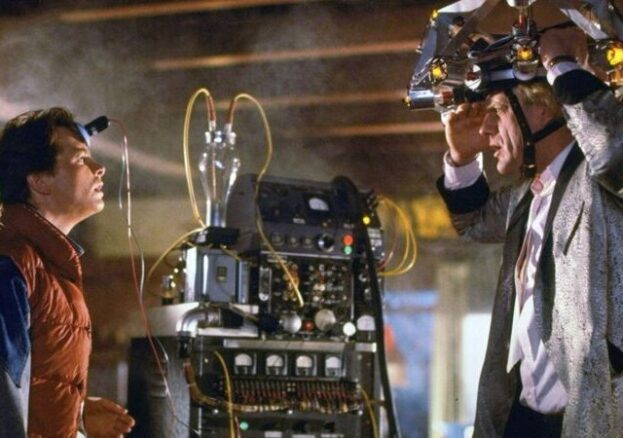 "Roads?! Where we're going, we don't need roads!"
Dr. Emmett Brown, Back to the Future
One of the most beloved blockbusters of the 80s, Robert Zemeckis' slick, peppy time-travel caper is a sure-fire crowd-pleaser. Michael J. Fox stars as Marty McFly, the cool all-American teenager who is accidentally sent back to the 50s by the eccentric Doc Brown. Zemekis, the writer-director behind such other perennial favourites as Forest Gump and Who Framed Roger Rabbit, has Marty stand up to the town bullies, crack Doc's DeLorian-centric mechanics of time-travel and try to ensure his teenage parents-to-be fall in love as fate intended. A timeless feel-good adventure, perfectly timed for the run-up to Christmas.
The screening will be introduced by Dr Sorcha Ní Fhlainn, Lecturer in Film Studies and American Literature at Manchester Metropolitan University.
After the film, HOME will launch their A Very 80s Chrismas season properly, with a recreation of Back to the Future's Enchantment Under the Sea dance. The ground floor bar will be transformed into a kitsch, underwater setting inspired by the vintage party that Marty McFly gate-crashes to save his family's future. There'll be plenty of photos opportunities with a DeLorian outside and 'your face here' standees commissioned from local artists. Fancy dress is strongly encouraged and Undersea Bar Tropicana will be serving classic 80s cocktails.
In a party-planning master-stroke, a split music programme will see Vintage 78 DJs playing music from the 1950's on gramophones, embracing the start of Rock n' Roll, Rhythm and blues, Doo wop and Blues records from 20:00. Then at at 10.04 – the moment that the clock tower in the movie is struck by lightning – the party will flip to hits of the 1980s, with music provided by Christopher Dresden Styles of Manchester's popular Pop Curious? club nights.