Auto – Destruct at Cross Lane Projects, Cumbria
Sara Jaspan, Exhibitions Editor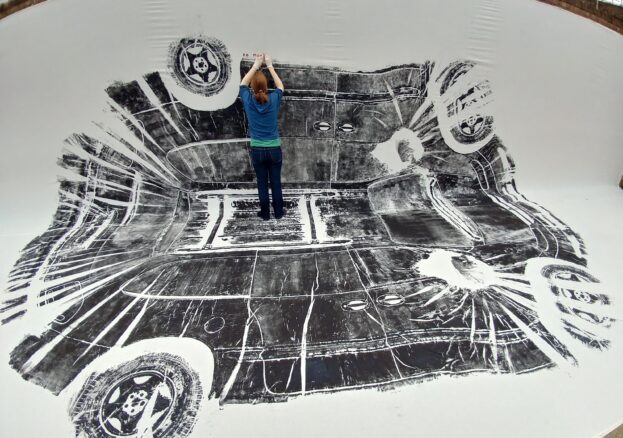 Many will be familiar with the work of Gustav Metzger (1926-2017), not least through his widely-celebrated contribution to Manchester International Festival 2009, Falling Trees, which protested against the increasing brutalisation of the natural world, and now stands on permanent display at Whitworth Park. The German-born artist's deep concern for climate change dominated the final decade of his output, yet its roots can be traced back throughout his 60-year-long career, which was defined by a radical critique of waste, capitalism, consumerism, social injustice and over-investment in the promise of technology.
It is particularly the risks attached to the blind pursuit of technological advancement that provided the impetus for Metzger's 1959 manifesto, 'Auto-destructive Art', and which now informs Cross Lane Projects' summer exhibition, Auto-Destruct. Presented at the former Kendal Mint Cake factory turned contemporary art gallery, the group show will feature the work of over 15 artists made in response to Metzger's prescient concerns, predominantly in relation to the automobile. Coursing its trajectory from a symbol of wealth, glamour, convenience and liberation, to one of ubiquitous mass-commodity, responsible for over 3,000 deaths a day and major cause of pollution, Auto-Destruct sets out to question the nature of the invention's impact upon society and whether it can really be considered as a sign of human progress.
With car ownership still at record levels around the world – despite growing awareness of the damage they cause – the exhibition also highlights our ability to adopt a willing blindness towards the impact of our actions in the pursuit of short-term, individual convenience. And, by extension, taps into the debate around the threat posed by our increasing dependence upon and enslavement to technology.
As technology continues to develop at an alarming pace, Auto-Destruct promises to encourage a timely series of reflections upon our relationship to the machines with which we share our lives