Audiobooks at YES
Johnny James, Managing Editor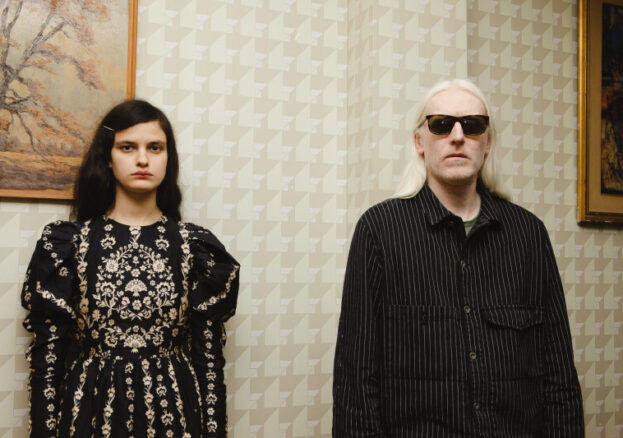 Following the release of their first collection of music in two years – the EP Gulliver – freewheeling freakpop duo Audiobooks kick off their UK headline tour at YES on 3 June.
Released on 12 April via Heavenly Recordings, Gulliver follows 2021's critically acclaimed album Astro Tough – a proudly weird, energetic blast of synthpop jams helmed by veteran producer David Wrench and narrated by the wonderfully eccentric Evangeline Ling. From the dark pulsations of lead single 'The Doll' to the hedonistic revery of 'Lalala It's The Good Life', it's an eclectically great record that featured highly on many of end-of-year lists.
Gulliver is another chameleonic gem, with lead single 'Burnt Pictures' bringing fresh energy in the form of Manchester MC OneDa, who supported the duo on their Astro Tough tour. True to Audobooks' esoteric tendencies, the track is apparently inspired by 60's Czech New Wave Cinema classic Daises, which David Wrench put on silently in the studio for Evangeline Wrench to improvise lyrics to. Burrowing into the psyche of the twilight hours, every line is quotable, every riff irresistible. Listen below.
Another standout is Tryna Tryna Take Control, which, according to the duo "draws musical inspiration from 70s Brazilian legends Caetano Veloso and Milton Nascimento as well as smooth '80s pop stars Sade and Terence Trent D'Arby…but all put together with a very post punk attitude." It's typically hooky, musically, and typically batshit, lyrically. At one point the narrator's mind "splits into a mattress full of minks". At another they meet an owl who they name Ronnie O Sullivan.
The last time we caught the duo live, they were supporting Baxter Dury at The Ritz. As good as Dury was, Audiobooks kind of blew him away. It'll be great to catch them in the more intimate confines of YES this June.