Another Sky at The Star & Garter
Johnny James, Managing Editor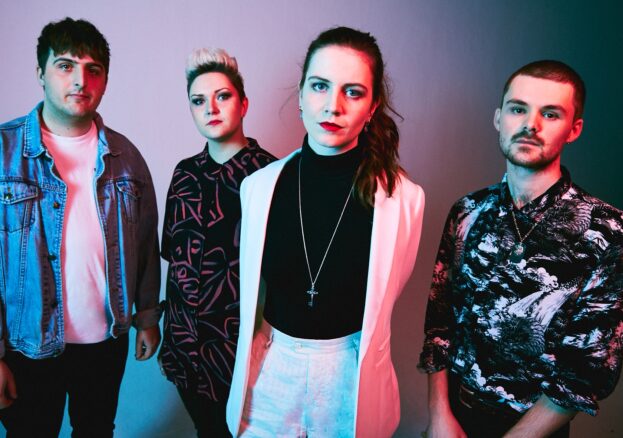 Finally getting to tour their acclaimed debut album I slept On The Floor, London's Another Sky return to Manchester for an intimate show at The Star & Garter.
While other bands vie for attention by pushing the latest musical trend to its limits, Another Sky quietly go about their business, making otherworldly post-rock. In many ways their debut album is a reckoning with past selves, inspired by singer Catrin Vincent's move from a right-wing town to London. It's the soundtrack to finding acceptance in new surroundings, while being aware of the dangers lurking beneath the surface of society.
Listen to the record and you'll hear elements of Radiohead, Mogwai and Talk Talk, but Catrin Vincent's voice isn't comparable at all. Her upper register is fragile and haunting, while her peculiarly low chest voice is like a weapon, one that she aims at political and societal issues like toxic masculinity, female oppression, and the apathy of the privileged. "People say I sound like a man," she says. "Maybe that means they'll listen."
'Brave Face' is one of a number of standouts on the album, fusing arena-sized rock soundscapes with dexterous In Rainbows-style rhythms while Vincent thunders "Only you can demand all you deserve". 'The Cracks', another Radiohead-indebted gem, was "inspired by the little girl fined by the council for setting up a lemonade stall, the kids suing the US government for global warming, teenagers like Greta Thunberg," says Vincent. "It's about our generation's unique position of facing extinction."
The balance of light and shade is something that the London four-piece get spot-on across the record, marrying soul-bruising moments with soaring, life-affirming ones. The band's follow-up EP Music For Winter Vol.1 is, by contrast, is a more sombre collection of songs, born, tellingly, in lockdown. The range of contrasting timbres and sonorities is particularly strong; in tracks like 'Pieces' and 'Sun Seeker' the band build from quiet, sparse textures to densely cacophonous soundscapes without you even noticing the change is happening. It's clever without being pretentious, and subtly draws you into Another Sky's dreamlike musical world until you forget the one around you.
The same thing happened when we caught Another Sky at YES in 2019. Their all-encompassing music translates from record to stage in a way that only heightens its majestic intensity. It's a live sound that you can't help be moved by, and Vincent's voice, the anchor of it all, takes on new power when she feeds off the energy of a crowd. We can't wait to catch them again at The Star & Garter on 13 August.