Another Sky at YES
Johnny James, Managing Editor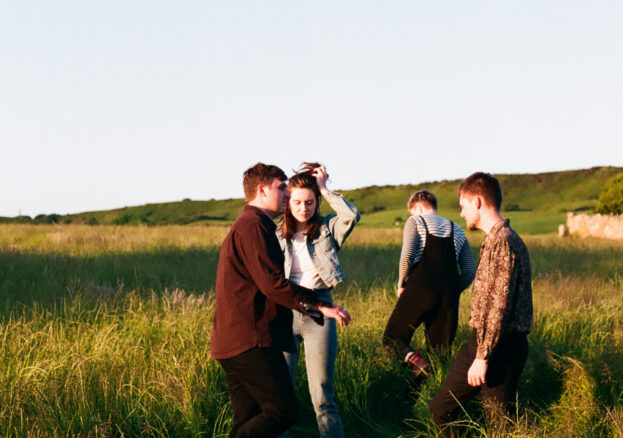 It will be Catrin Vincent's voice that grabs you first. Androgynous and strange, it flits between bellowing contralto and delicate soprano at the flick of a switch. Wielding it like a weapon, she takes aim at political and societal issues like toxic masculinity, female oppression, and the apathy of the privileged. The blistering defiance with which these subjects are handled makes London's Another Sky one of the most exciting up-and-coming bands around, and that's without even mentioning the music. Drawing on bands like Radiohead and the xx as well as producers like Four Tet and Bonobo, their singular brand of brooding indie/electronica is as commanding as their words. Destined to ascend to larger stages, you'll only kick yourself later if you don't catch them at YES on the 11 February.
Like a moth in chrysalis, Another Sky evolved in the darkness. Meeting at Goldsmiths University, their early output was written, rehearsed and recorded in a pitch black room, so that every focus could be placed on the music. On stage, too, they cloaked themselves in shadow. The resultant anonymity only added to the excitement of their debut EP, Forget Yourself. Artfully sculpted and luxuriously cinematic, the moonlit title track features skittering, glitchy electronics, paired with warm, velvet-like piano and Romy-esque guitars. Threading its way through the lunar glow, Vincent's otherworldly voice spins silken melodies as she calls for a renouncement of individualism and a return to community. 'Fighting Bulls' and 'All That We Do Create' ramp up the emotional drama further, with biting guitars, anxious beats and haunting vocals.
If Forget Yourself was Another Sky in their chrysalis state, 'Avalanche' was their glorious emergence. Darker and angrier, this single bears its fangs at toxic masculinity and the way it bleeds into other oppressions, with a specific mention of trigger-happy cops and allusions to women who live their lives in fear of violence. Whilst most bands shy away from these uncomfortable topics, Another Sky face them dead on, with the song's chorus leading by example: "a spider lived under my bed, and though I was scared, I broke its legs". The music beneath taps into the same ferocity, whist managing to remain utterly majestic. Guitarist Jack's blistering guitar riffs sound like Jonny Greenwood at his most venomous, and you could cut yourself on the jagged edges of both Max's beats and Naomi's bass lines. It's not all red in tooth and claw, though, with these frenzied moments artfully interspersed with wonderful pockets of calm. Ingeniously, however, these lighter moments only make the darkness feel darker.
For their next single, Another Sky continued to test the limits of their new-found wings. The spritely, urgent pop song, 'Chillers' takes a tongue-in-cheek shot at those in privileged positions who apathetically shrug off big issues in favour of self-indulgence: "Why worry about the weather or nuclear weapons when they can eat for free on a black card at Nando's?". For all of its smirking art-pop perkiness, though, there's an undercurrent of unease there, with off-kilter guitars and menacingly persistent percussion harbouring a lurking darkness. Yes, there's a joke to be had, but there's also a sense of exhausted anger towards powerful people who take advantage of those beneath them. The elegance with which Another Sky fuse together hope and despair here is pretty astounding.
Until about an hour ago, 'Chillers' was the latest studio track released by the band. While writing the paragraph you've just read, however, 'Apple Tree' dropped on Spotify. Further proof that 2019 is Another Sky's year, this Smiths-via-Radiohead tune is an absolute belter, featuring jangly, full-bodied guitars, anthemic rhythms and Vincent's voice at its most seductive. Again this song dismantles toxic masculinity, but this time it does so through a charming story about a boy who likes to talk to daffodils. He's unable to share this pastime with the world, you see, because it doesn't align with what is expected from men: "Boy were they pretty. He couldn't be pretty. If he was found out they'd be cut down". An immediate earworm, this is the catchiest song the band have written, and it's the most hopeful, too, promoting the joy of simply being who you are. As always, Vincent's voice is staggeringly good, with heart-stopping glissandos spiralling skyward during the repeated phrase "an extension of yourself". Sure to be part of a new EP, this track is a great sign of things to come.
Before Another Sky inevitably blow up, why not catch them at YES on the 11 February. It'll be the best £8 you've spent all year.