altered by Tony Heaton at Bury Art Museum and Sculpture Centre
Maja Lorkowska, Exhibitions Editor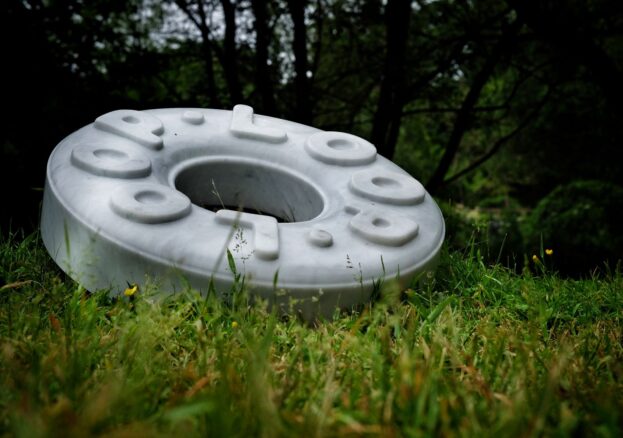 Bury Art Museum and Sculpture Centre is showcasing a major solo exhibition and catalogue by British sculptor and disability rights activist, Tony Heaton OBE. altered by Tony Heaton features the sculptor's early work, including a crucial aspect of his practice which is disability rights activism and initiation of the National Disability Arts Collection and Archive, as well as the more recent stone carvings.
Early in his career, Heaton experimented with environmental art popular at the time, which is what initially led him to exploring Disability Arts. As his ideas and practice developed, it became an embodiment of thinking about disability, impairment, the societal pressures for perfection and discarding all that does not fit within the narrow view of 'the norm'. altered gathers some larger pieces as well as more intimate, figurative works.
Suite: Fruits is a set of works based on the Polo sweet – made in bright and bold colours, resting against the wall, magnified to the size of a car wheel. The artist himself talks about 'connectedness' as a key thread running through his work in more or less visible ways, and that connectedness can be said to come to the fore quite literally in his sweet hoops that spell out 'LOOP' instead of 'POLO'.
Heaton's oeuvre carries serious messages but playfulness is his chosen method of communicating them. Gold Lamé was a particularly notable commission which was the first sculpture sited on the Liverpool Plinth in 2018. Based on an 'Invacar', a three-wheel vehicle that was given to wheelchair users free of charge by the NHS until the 1980s, Heaton transforms the car "from lame to Lamé" by wrapping the originally blue object in gold foil. His fame was cemented with the Monument to the Unintended Performer – a competition winning piece celebrating Channel 4's involvement with the 2012 London Paralympics.
Another set of works on display includes Heaton's stone carvings of marble people sitting on benches. Spend some time with the piece though and you'll see that the bench has no legs and it is the sitters that are supporting themselves.
The multi-layered 'alterations' visible in the artist's work take on many forms, and invite the visitors to draw their own conclusions, so you can be absolutely certain that they will spark unexpected conversations.