A Phantom's Vibe at esea contemporary
Katie Evans, Exhibitions Editor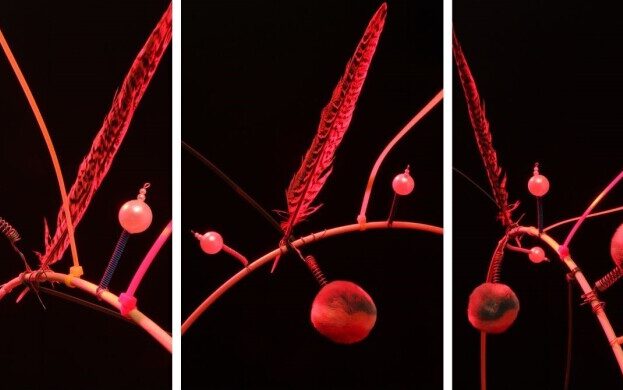 esea contemporary presents A Phantom's Vibe, a solo exhibition by interdisciplinary artist Dinu Li. Combining music, sculpture and video installation, the exhibition explores cultural memory, hybrid identities, and the complexities of colonial history.
Through a PVC door curtain, you enter into a dimly lit room of structural assemblages, soundtracked by an EP Li co-produced specifically for the exhibition. It feels as though you've passed into a secret space, a spot that only the most in-the-know locals know about.
Moving through the room is a transglobal experience. From Hong Kong to Moss Side via Jamaica, at the centre of it all (literally and figuratively) is the reggae classic 'Always Together' – reframed here as an allegory for the meeting and mixing of cultures through music.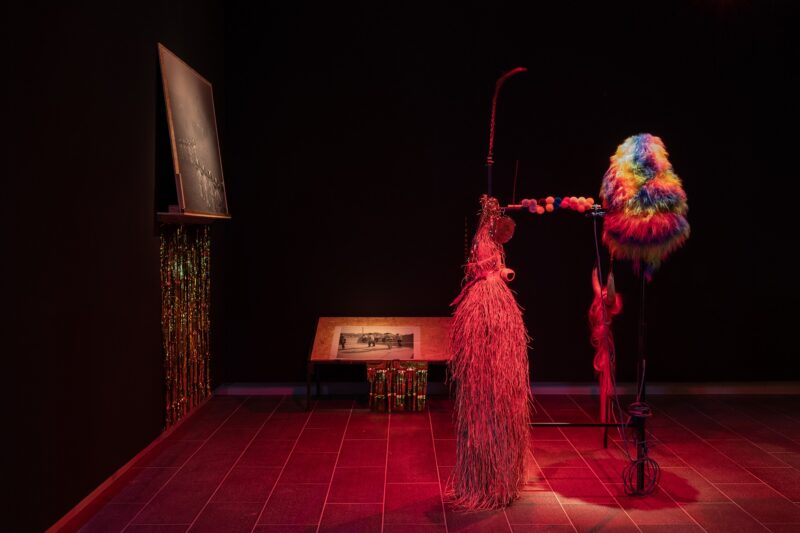 For Li, the track intertwines cultural and personal histories. Recorded in Jamaica in 1967 in one of the island's Chinese-owned recording studios, Li first heard it play through the market districts of Hong Kong, and again in 1980s Manchester at one of the inner-city Blues parties of his youth. It reappeared, like a phantom, across place and time.
Li created the new sculptural works in situ, and in part from items he salvaged from across the city. In Skanking Hawker, small speakers are set on tiered shelves, altar-like, as a master potter might display hand-crafted bowls. It sinisterly hides behind it a tumble of spotlit ropes, hinting at something vulnerably hung up on display. 
Moving to the far-right corner, Tinker's Spell resembles a freeze-framed scene. Viewers can circle around the psychedelic 'figures' who, themselves, appear to be observing the photographs before them. 
And Back-a-Yard Brew is a parade of feather dusters and hybridised miniature plastic birds, the type sold in pet shops for solitary budgies, stuffed with long tail feathers. Reggae vinyls are tightly bound into the structure, like a magpie hoarding its shiny collectables.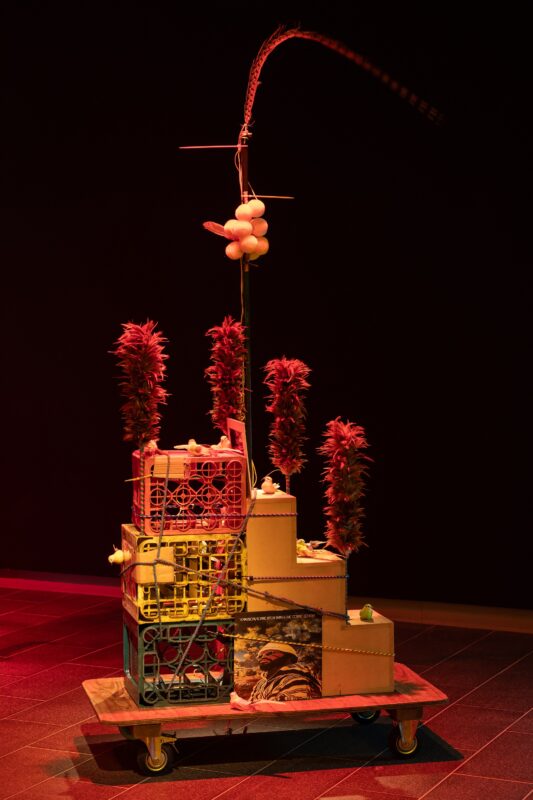 The sculptures, featuring pom poms, hair extensions, fake pearls and market stall tarpaulins, avoid singular, linear narratives. The hybridity of materials reflects the hybridity of cultural identities.
In examining the story of early reggae, A Phantom's Vibe unearths the underrepresented history of 'Chinese coolies in Jamaica', and reflects on music's ability to simultaneously root us to, and defy, time and space. 
Born in Hong Kong, Dinu Li lives and works in Cornwall, UK. His practice examines the 'manifestation of culture in the everyday', rendering the invisible visible. He has exhibited nationally and internationally, and was a nominated recipient of the Henry Moore Foundation Artist Award (2022).