This & That Café
Kate Feld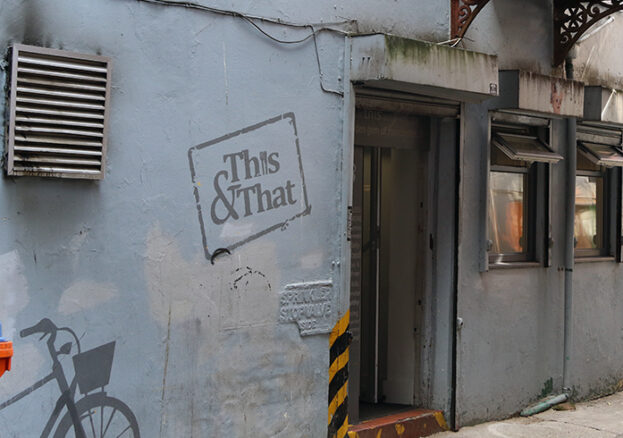 Taking its name from a time when patrons didn't know what to call their orders, but pointed instead to a bit of "this" and "that", This & That Café is still a hit amongst its most knowledgeable customers.
There's a particularly Northern Quarter conversation you'll have at some point, if you spend any time in this city, about eternally popular curry canteen This & That. If I've heard one hipster moan that This & That is overrated and the lesser-known Kabana or Al Faisal is better, I've heard a dozen. I just smile and say nothing. Maybe those places are better. I honestly don't know or care, because I've never tried them. For ten years, I've been regularly hot-footing it at lunchtime down Soap Street, the shiftiest looking alley in the Northern Quarter. This & That's star may have risen over the years, but the quality and generous portions haven't changed, and the interior has remained reassuringly basic. Inside, Hi-vis-vested builders, besuited civil servants and shaggy faced scenesters shovel it in, shoulder to shoulder at red and yellow plastic tables that were possibly boosted from a McDonalds in 1984.
Hardcore fans know to go on particular days for their favourite curries
Join the queue. The friendly, endlessly patient owners pile a plate high with rice and slap on big ladlefuls of your choice of curries – then you top it with raw onion, coriander and green chillies and help yourself to a jug of tap water or a can of coke. You can get (often microwaved) bhajis, samosas, chapatis and naan, or a mango lassi from one of those burbling fountain things, but for me it's all about the curries: lamb cooked to melting tenderness and paired with pumpkin or turnip, a robustly spiced chicken tikka, even humble dishes like cabbage or chana dhal are always solidly good eating. There's a different menu for every day of the week, and hardcore fans know to go on particular days for their favourites. And, crucially, you will struggle to pay much more than a fiver.
The rice n' three caffs are a holdover from the days when the Northern Quarter was populated by South Asian immigrants working in the textile trade, who needed to eat cheaply and quickly. At getting on for 30 years old, This & That is a dinosaur in catering terms but one that has thrived while the neighbourhood has changed around it. There will always be a market for good food at reasonable prices. If the "NQ" is Manchester's creative factory, this food is the fuel that keeps us all churning out those ideas. Long may it reign.