Wolf At The Door
Ian Jones, Food and Drink Editor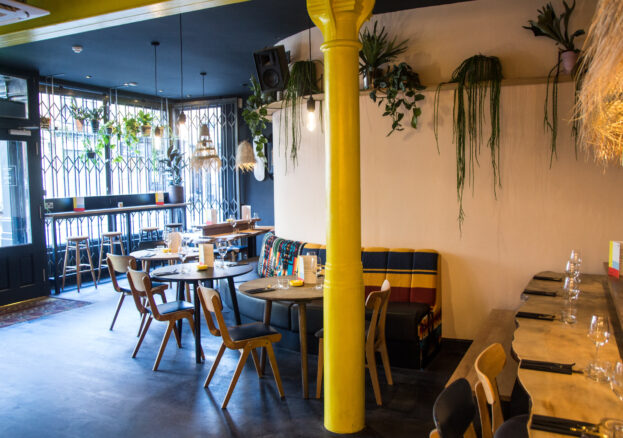 If you're looking for your next investment, plough it all into Wolf At The Door. This Northern Quarter restaurant is a surefire hit, for many, many reasons. The location is ideal, in a prime NQ spot – a stone's throw from Trof, and neatly helping to raise the tone from the Magaluf-lite likes of Walrus, towards what the Northern Quarter was intended to be – a stylish, forward-thinking area of the city, with a great soundtrack. If I had a farm, I'd bet it on Wolf At The Door becoming one of the city's leading lights in a matter of months.
Previous ventures in this space didn't last the course – pour one out for the sad loss of NQ OG Odd Bar, and a smaller one for short-lived vegan cafe, Folk & Soul – but the Wolf At The Door team have an impressive pedigree, with Cottonopolis, Trof and Junkyard Golf just some of the successes from the crack-team of bar-restaurant gurus behind the venue – not to mention the Wilderness record store and bar in Withington from which they've taken the name.
A kind of mini-Mana, if you will
It's a three-storey bar and restaurant, though the lower floor is more of a special-invite-only space for chef's table-style experiences, rather than a free-for-all. The food on offer is all small plates (where isn't?) but this isn't a half-hearted rush job, all the dishes are packed with ideas, and a real sense of a kitchen team trying to make something exciting and memorable. In short, it's the restaurant-cum-bar the Northern Quarter has been waiting for. A kind of mini-Mana, if you will.
For the press event, we tried half a dozen or so of these dishes, and while some were better than the others, it's worth noting that there was healthy disagreement about which were best. In advance of a full review, here's a photo essay showing some of the dainty and not-so-dainty dishes on offer. Grab a napkin, you're drooling.